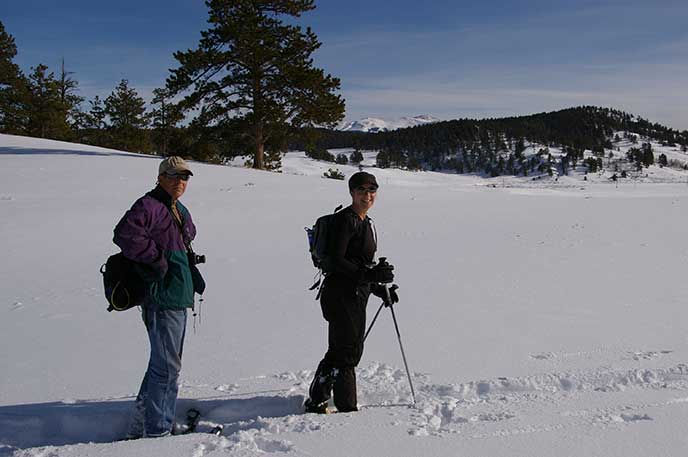 Florissant Fossil Beds National Monument in partnership with the the Teller County Community Partnership Family Resource Center, and the Friends of the Florissant Fossil Beds now offers a community health program called "Hikes for your Health."This hiking program is part of the National Park Service's Healthy Parks, Healthy People US initiative working to reintegrate human, environmental, and ecological health into the mission of public parks and public lands.
"Hikes for Your Health" will run every Wednesday and Saturday from January 14th to March 18th, 2015.
Download the flyer for all the dates
. These ranger-led hikes will vary in length from 2 – 5 miles. Depending on conditions, the hikes may either be on foot or by snowshoe. The Monument offers free snowshoes if needed. Participants must provide all other equipment and safety gear such as layered clothing, appropriate footwear, water, and snacks. Trekking or ski poles are recommended. Participants must be 10 years or older.

These hikes focus on health and not necessarily interpretation of the park's resources. In other words, come prepared for a workout and not a "normal" ranger hike. With that said, rangers leading the program will be more than happy to answer questions and point out interesting things along the way. Florissant Fossil Beds National Monument is open 9 a.m. to 5 p.m. daily. The entrance fee for the park is $3.00 per adult (16 years or older) or free with one of the many federal land passes. For more information please call the Monument at (719) 748 – 3253 ext. 122 or 202