National Fossil Day - October 16, 2013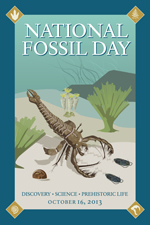 National Fossil Day is a celebration organized to promote public awareness and stewardship of fossils, as well as to foster a greater appreciation of their scientific and educational value. This year National Fossil Day will be held Wednesday October 16th, 2013.
Fossils discovered on the nation's public lands preserve ancient life from all major eras of Earth's history, and from every major group of animals and plants. The fossils found at Florissant Fossil Beds National Monument are an excellent 'snapshot in time' of the late Eocene time period: a glimpse into a Colorado very different from the Colorado we know today. Over 1,700 different species have been found, totaling over 40,000 specimens. They provide an excellent study in the changes that Colorado have experienced, and provide clues to the changes occurring today.
---
NPS Photo
View the National Fossil Day Video and listen to Florissant Fossil Beds' own Jeff Wolin perform the National Fossil Day song! Click on the picture or click here!
Did You Know?

Florissant Fossil Beds National Monument is actively involved in fire mitigation and conducts prescribed burns every winter.