Prescribed Burning in October

Fire crews plan to implement a prescribed burn on approximately 180 acres of monument land starting the week of October 13. This alert banner will be used to communicate whether or not burning is taking place on any given day. More »
Fossils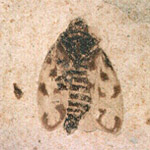 Museum of Comparative Zoology, Harvard University, Specimen MCZ 5013
The rich deposits discovered at Florissant Fossil Beds give us an unusually detailed look at life in an ancient North America. Over 50,000 specimens have been found representing over 1,700 different species of animals and plants. These impressions of prehistoric plants and animals are relatively young in geologic terms. The Florissant fossils hint at what life may have been like about 34 million years ago during the late Eocene Epoch.


Plants

Leaves, petrified wood, fruits, seeds, pollen, spores, and diatoms

Invertebrates

Insects, spiders, millipedes, ostracods, clams, and snails
Did You Know?

Both adults and aquatic nymphs (juveniles) of damselflies and dragonflies have been found at Florissant fossil beds. You can tell the insect pictured is a damselfly because the wings are held above the body instead of held out horizontally like the wings of an airplane, as in dragonflies. This image is protected by copyright. All rights reserved. To learn More...