Fossils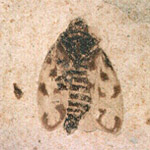 Museum of Comparative Zoology, Harvard University, Specimen MCZ 5013
The rich deposits discovered at Florissant Fossil Beds give us an unusually detailed look at life in an ancient North America. Over 50,000 specimens have been found representing over 1,700 different species of animals and plants. These impressions of prehistoric plants and animals are relatively young in geologic terms. The Florissant fossils hint at what life may have been like about 34 million years ago during the late Eocene Epoch.


Plants

Leaves, petrified wood, fruits, seeds, pollen, spores, and diatoms

Invertebrates

Insects, spiders, millipedes, ostracods, clams, and snails
Did You Know?

The massive petrified redwood stump known as the "Big Stump" is not actually the largest diameter stump at Florissant Fossil Beds. The "Big Stump" measures 38 feet in circumference, but the biggest stump is over 41 feet.