Prescribed Burn Postponed

The prescribed burn on approximately 180 acres of monument land starting the week of October 13 has been postponed. If conditions and planning updates are met, the operation may still occur later the month or maybe spring. Check back for updates. More »
Fossils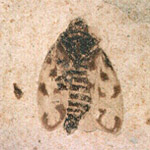 Museum of Comparative Zoology, Harvard University, Specimen MCZ 5013
The rich deposits discovered at Florissant Fossil Beds give us an unusually detailed look at life in an ancient North America. Over 50,000 specimens have been found representing over 1,700 different species of animals and plants. These impressions of prehistoric plants and animals are relatively young in geologic terms. The Florissant fossils hint at what life may have been like about 34 million years ago during the late Eocene Epoch.


Plants

Leaves, petrified wood, fruits, seeds, pollen, spores, and diatoms

Invertebrates

Insects, spiders, millipedes, ostracods, clams, and snails
Did You Know?

Most fossils in the monument are from the late Eocene (34.07 million years ago), but a tooth and jaw fragment from a much younger mammoth have also been found. The fossils are from the Pleistocene Epoch and are at least 50,000 years old.