National Park Week Event Calendar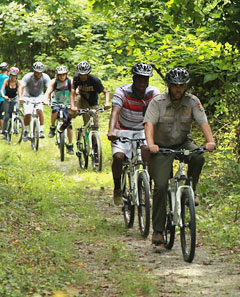 NPS photo
America's national parks are filled with iconic landscapes, vibrant culture, and rich history. During National Park Week, April 19-27, 2014, you can explore them in depth.
We've got fun events taking place in national parks all across the country, including wildflower walks, history talks, and wildlife tours. There's sure to be an event for you!
You can try the Whiskeytown Waterfall Challenge, celebrate Patriot's Day at Minute Man National Historical Park, or experience first-hand the tradition of Hawaiian sailing at Pu`ukoholā Heiau National Historic Site. Search the events calendar below—by state, date, or park—to find the activities of interest to you.

With so many things to see and do, and so many parks to visit, where will you go?
Find events across the country!
Find an Event By: