Take a Walk in a Park!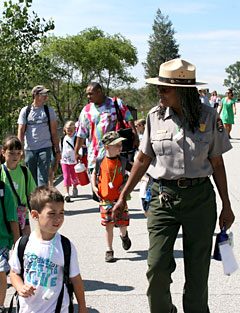 NPS photo.
A short walk can make a big difference! During National Park Week, April 19-27, 2014, we encourage you to get outside, enjoy a beautiful landscape, and give yourself the gift of better health by taking a walk in one of America's 401 national parks.
Top Ten Reasons why a walk in a park is good for you:
Have Fun
Reduce Stress
Sleep Better
Manage Weight
Improve Concentration
Reduce Blood Pressure
Lower risk of chronic illness such as heart disease and diabetes
Spend time with family and friends
Enjoy nature
Live longer
Step into the action during National Park Week, when more than 100 free, ranger-led walks are offered. You can hike to a cloud forest at Waikamoi in Haleakalā National Park, take a sunset stroll at White Sands National Monument, enjoy a wildflower walk at Cumberland Gap National Historical Park, wander through John F. Kennedy's neighborhood, and even take part in a frog frolic night walk at Chattahochee River National Recreation Area. View the calendar of events to find a hike near you.
Or plan your own hike. With more than 17,000 miles of trails in national parks and another 15,600 miles of national recreation trails, you're options are almost limitless. These trails are in every state, so chances are good that you'll find one nearby. In fact, there are more miles of trails in the national trails system than miles of road in the interstate highway system!
There are 401 national parks across the country. Visit a national park near you!

April is also Minority Health Month. This year, the U.S. Department of Health and Human Services encourages all of us to adopt the theme, Prevention is Power. Taking a walk in a park is an easy, fun way to stay healthy and help prevent illness. Learn how doctors and healthcare organizations are partnering with national parks.