More Park Facilities Reopen During May 2013

Watch Hill and Sailors Haven marinas open May 10. Limited ferry service from Sayville to Sailors Haven resumes May 13 and ferries from Patchogue to Watch Hill start on May 18. Remaining park facilities to reopen by May 25, 2013. More »
Post-Hurricane Sandy: What's Happening on Fire Island
Fire Island National Seashore has been involved in a multiple agency storm recovery effort. The following links and information may be helpful in following the progress.
The William Floyd Estate, located in Mastic Beach, reopened on Friday, November 9, just in time for Veterans Day weekend. Tours of the Old Mastic House ended for the season on Monday, November 12, but ranger-guided grounds tours are offered throughout the year.
The Wilderness Visitor Center was reopened on November 10, with pedestrian access to the beach between the visitor center and the breach at Old Inlet. A portion of the Otis Pike Fire Island High Dune Wilderness between the visitor center and the breach reopened in mid-December, after removal of damaged boardwalks and debris, but wilderness camping is currently suspended. Sportsman's recreational driving on the beach in front of the wilderness area has been discontinued for the 2012 season.
All other Fire Island National Seashore facilities on Fire Island remain closed following the landfall of Hurricane Sandy on Monday evening, October 29, 2012, and the arrival of a nor'easter on Wednesday evening, November 7, 2012. Damage assessments and stabilization have been conducted. Debris removal and clean-up are still underway.
Both the Town of Islip and the Town of Brookhaven and Suffolk County extended their mandatory evacuation orders for Fire Island after the storm, and access to Fire Island was restricted. Limited access for Fire Island homeowners began on November 14, 2012, and Fire Island year-round residents who hold driving permits from Fire Island National Seashore were allowed to drive their permitted vehicle back onto Fire Island. All Seashore properties between the park's western boundary and the breach at Old Inlet remained closed to the general public during debris removal and clean-up.
*The Fire Island Association created helpful updates for Fire Island communities:
The National Park Service/Fire Island National Seashore did not issuing new contractor driving permits or temporary driving permits for the remainder of 2012. Sportsman's Recreational Driving was also suspended for 2012.
All scheduled interpretive programs and visitor activities on Fire Island were canceled after the storm, and are being rescheduled as facilities reopen. Additional information and updates will be provided when available.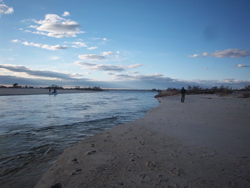 During the storm, Long Island's South Shore beaches experienced several overwashes and a few breaches (where water freely flows between the ocean and the bay), including two breaches on Fire Island: one at Old Inlet (within the Otis Pike Fire Island High Dune Wilderness) and another in Smith Point County Park. Learn more about natural changes to the Fire Island landscape.
The National Park Service is one of several agencies involved in an interagency breach management response for the south shore of Long Island, as part of the U. S. Army Corps of Engineers Fire Island to Montauk Point Reformulation Study. After Hurricane Sandy's arrival, the 1997 Breach Contingency Plan for Fire Island was implemented:
Learn More about Old Inlet Breach on Fire Island

Thanks for all the offers to help. For Fire Island National Seashore properties and facilities, the NPS is still assessing impacts. We will be able to provide a directory of volunteer opportunities as we know more. Two of our partners, the Fire Island Lighthouse Preservation Society (FILPS) and the Friends of Fire Island National Seashore (FFINS), have fundraising agreements in place with the NPS to provide support for FINS. We will look for volunteer opportunities in the spring and summer as we develop a better sense of our needs heading into the next visitor season.
Did You Know?
Several generations of Floyd family women planted trees around the William Floyd Estate's Old Mastic House. You can still see some of those same trees today. Several big trees are now more than 150 years old. More...