New Backcountry Camping procedures

Reservations for required permits must be obtained through Recreation.gov. Due to the breach at Old Inlet, access to both east and west wilderness camping zones must now be from Davis Park or access points west, and involve a 2½ to 10 mile hike. More »
William Floyd Estate Facilities & Hours
William Floyd Estate
245 Park Drive
Mastic Beach, NY 11951
631-399-2030 (or 631-395-9693)
Grounds Open
April 5-May 18, 2014: Friday-Sunday, 10:00 am-4:00 pm
May 23-November 11, 2014: Friday-Sunday and holidays, 9:00 am-5:00 pm
Free self-guiding pamphlets for the outbuilding area and family cemetery are available at the Old Mastic House until 4:00 pm.
During the warmer months, come prepared for ticks and mosquitoes!
Old Mastic House Tour
Free 1-hour guided tours of the 25-room furnished house are offered every half-hour. Last tour leaves at 4:00 p.m.
May 23-November 11, 2014: Friday-Sunday and holidays, 10:00 am-4:00 pm
Plan to spend at least 2 hours at the William Floyd Estate to see the house, grounds and family cemetery. Don't forget to bring insect repellent if you plan to tour the grounds and cemetery.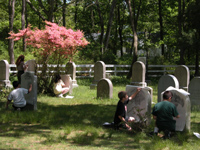 Special Programs
Special guided tours and programs are being offered periodically at the William Floyd Estate year-round. Check the Calendar of Events for the latest scheduled activities.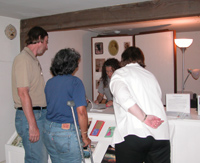 An Eastern National sales area is located in the Old Mastic House. At the conclusion of the guided tour, you may purchase additional materials to help you learn more about the life and times of William Floyd and his family.
Stop by as you leave the tour.


"Old Mastic House" Tour

Discover 250 years of history on a 1-hour, 25-room guided tour at the William Floyd Estate. Read More

William Floyd Estate Programs

Special tours and programs help you learn more about local history and the Floyd family. Read More

Artifacts on display at the William Floyd Estate

Rotating exhibits of items in the park's collection help you learn more about Floyd family life. Read More
Did You Know?
The first Fire Island Lighthouse was built at the end of Fire Island in 1826. Today, the Fire Island Inlet is more than five miles west of this foundation. You can see the remnants of the first structure when you visit the present lighthouse, constructed in 1858. More...