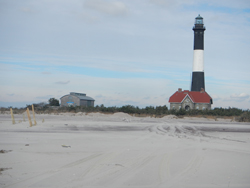 Hurricane Sandy Impacts at the Fire Island Lighthouse
Many dunes were flattened and boardwalks displaced by the storm. Hurricane Sandy heavily impacted all public access routes to the Fire Island Lighthouse, inlcuding the roads in Robert Moses State Park, where most Lighthouse visitors park.
Seashore-owned boardwalks connecting Field 5 and the Lighthouse were destroyed and removed, as were boardwalks connecting the Lighthouse to the beach and to the bayside dock used by water taxis. This administrative dock was also destroyed by the storm.
Flooding occurred in the area of the Lighthouse terrace and West District Ranger Station. Utilities were impacted, but power was restored.
The unpaved Burma Road in front of the Lighthouse was damaged during the storm.