Sportsman's ORV driving limitations

Due to the breach at Old Inlet, the sportsman's driving area is reduced to approximately 1¼ miles of the beach west of the Wilderness Visitor Center. Required permits may be purchased at this visitor center when staffed, for use through 12/31/2013. More »
New Backcountry Camping procedures

Reservations for required permits must be obtained through Recreation.gov. Due to the breach at Old Inlet, access to both east and west wilderness camping zones must now be from Davis Park or access points west, and involve a 2½ to 10 mile hike. More »
Annual Labor Day Sand Creation Contest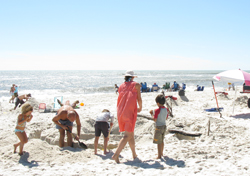 Fire Island National Seashore holds a sand creation contest every year during Labor Day weekend. The contest is held at both Watch Hill and Sailors Haven. Entry is free and sign-up starts at 10 am. Three hours later the creations are judged by Fire Island staff. At 2 pm, an awards ceremony is held. Mark your calendar and join us annually to put your creativity and building skills into action while celebrating the end of the summer season.
All ages are accommodated through our age-based team system. The age groups consist of 5-7, 8-12, 13-17, Adult and Team (mixed ages). With enough contestants, first, second and third place prizes are given for each age group. Creations are judged based on creativity, effort, originality and detail.
For the contest held on September 4, 2011, Sailors Haven had a fairly large turn out with 98 participants and 21 creations! The 8-12 age group had a tie for first place with "Pompei the Aftermath" and "Zodiac/Boogy Board." "Mermaid" took first place in the 13-17 age category. A pirate ship won the adult age group and a crocodile took the win for the team category. Second and third place prizes were awarded in all age groups.
Also in 2011, Watch Hill had 41 participants with 11 sand creations. While every age group had first place through third place awards given, a special overall winner award was given to a father/daughter duo, going by the name "Blue Claws," for their intricate sculpture of a mermaid.
Sailors Haven Facility Hours & Rates

Open from mid-May to mid-October, hours of operation vary by season. Read More

Watch Hill Facility Hours & Rates

Open from mid-May to mid-October, hours of operation vary by season. Read More

For Kids: Junior Ranger Patch or Badge

is the reward for completing Fire Island's Junior Ranger Workbook. Read More
Did You Know?

Tiny rootlets of the American beach grass (Ammophila breviligulata) and mycorrhyzal fungi hold together the grains of sand that make up sand dunes on Fire Island. You can help protect the dunes by not walking or driving over the beach grass. More...