Pet Restrictions in Effect March 15 through Labor Day

Dogs/other pets (except for service animals) are not allowed in the wilderness or on any of Fire Island's federally owned oceanfront beaches from March 15 through Labor Day to help protect threatened and endangered beach-nesting shorebirds. More »
Backcountry Camping Permit and Access Procedures

Reservations for required permits must be obtained through www.recreation.gov. Due to the breach at Old Inlet, access to both east and west wilderness camping zones must now be from Watch Hill or points west, and involve a 1½ to 8 mile hike. More »
Attention Watch Hill Ferry Passengers

Due to channel conditions, delay or cancellation of ferry service between Patchogue and Watch Hill may occur. For updated ferry schedule information, please call 631-475-1665.
Reservations
Camping
At Fire Island National Seashore, you may (and should) make advance reservations through the park's concessioner, Fire Island Concessions, LLC, for camping at the Watch Hill Campground. An on-line reservation system is available for individual campsites. Applications for the group site are still accepted by mail.
A new reservation system for wilderness camping permits began on May 15, 2013, for overnight stays starting May 25, 2013. Permits have previously been available only on a first-come, first-served basis.
Boating
A portion of the slips at Watch Hill Marina may be secured before your arrival.
Limited Watch Hill Marina individual reservations are accepted by phone at 631-597-3109 on the day of arrival, after 8:30 a.m. on Memorial Day weekend and daily during the summer. Reservations are not required during the remainder of the shoulder season. Up to 75% of the available slips are eligible for reservations on a daily basis. Once the reservation quota has been met, remaining slips will be rented on a first-come, first-served basis.
Watch Hill Marina Group Reservations may be made for groups of 10 or more vessels during shoulder season dates in May, June, September and October, except within 10 days of Memorial Day, the Fourth of July, or Labor Day. Requests may be made by phone at 631-597-3109 or by e-mail. No more than 1/3 of the Watch Hill marina slips may be reserved by groups.


There is no reservation policy for the Sailors Haven Marina at this time.
All slips are available on a first-come, first-served basis. See Sailors Haven Facilities Hours & Rates.
Any special events or activities that take place concurrent with a group's reservations for overnight accommodations must be officially permitted by the National Park Service. Plan to apply for a Special Use Permit at least 2 weeks in advance. Application fees and insurance requirements accompany these permits.
Ferry Transportation
Groups should make reservations for transportation to Fire Island National Seashore facilities by either of the park's ferry concessioners: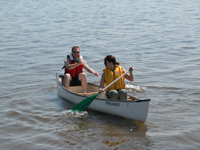 Programs
For programs conducted at Fire Island National Seashore facilities, contact the park's Interpretation and Education staff. The Fire Island Trek requires a reservation, as do most conducted activities for schools and other groups.
Reservations for tower tours, special interpretive tours and educational programs at the Fire Island Lighthouse are made through the Fire Island Lighthouse Preservation Society. School and scout programs fill quickly.
Other Fire Island Locations
To find more information about reservations for lodging, dining, and marina slips within any of the small communities that exist within the boundaries of Fire Island National Seashore, or in the adjacent state and county parks, you may find helpful links from the following pages:
Sunset Tower Tour

Special programs are offered by the Fire Island Lighthouse Preservation Society. Read More

Camping on Fire Island

A variety of options are available to experience the barrier island overnight. Read More

Enjoy the sunset from Watch Hill's marina.

Watch Hill, in the middle of Fire Island, lies across the Great South Bay from Patchogue, NY. Read More
Did You Know?
Several generations of Floyd family women planted trees around the William Floyd Estate's Old Mastic House. You can still see some of those same trees today. Several big trees are now more than 150 years old. More...