Sportsman's ORV driving limitations

Due to the breach at Old Inlet, the sportsman's driving area is reduced to approximately 1¼ miles of the beach west of the Wilderness Visitor Center. Required permits may be purchased at this visitor center when staffed, for use through 12/31/2013. More »
New Backcountry Camping procedures

Reservations for required permits must be obtained through Recreation.gov. Due to the breach at Old Inlet, access to both east and west wilderness camping zones must now be from Davis Park or access points west, and involve a 2½ to 10 mile hike. More »
Pets on the Beach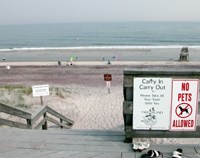 From March 15 through Labor Day, pets (excluding service animals) are not permitted on Fire Island National Seashore ocean beaches.
This closure is made to protect federally and state listed threatened and endangered species.
Pets are also not permitted in Robert Moses State Park or parts of Smith Point County Park. Several Fire Island communities prohibit dogs and other pets on the beach. Please check before you plan your visit with your dog.
The first
piping plover
of the season is usually observed on Fire Island by mid-March. Nesting and mating begins soon after the birds arrive, and the first egg of the season can be expected by late April. Fire Island National Seashore begins installation of fencing to protect suitable plover habitat around the beginning of April. As nests are established, exclosures are constructed to protect both the nests and the eggs. After chicks have fledged, or flown from the nest, symbolic fencing is left up to protect suitable habitat for threatened and rare plant species, the seabeach amaranth and the seabeach knotweed.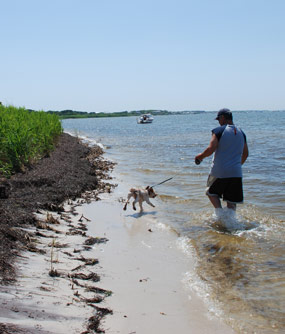 Where dogs are allowed, please remember:
Pets must always be kept on a leash no longer than 6 feet.
Always be considerate and pick up after your pet. Dispose of pet waste properly. (Don't bury dog feces in the sand on the beach.)
Did You Know?
Many boating accidents and drownings are alcohol-related. National Park Service rangers and other officers conduct safe boating checks and enforce boating under the influence (BUI) laws on the Great South Bay. More...