New Backcountry Camping procedures

Reservations for required permits must be obtained through Recreation.gov. Due to the breach at Old Inlet, access to both east and west wilderness camping zones must now be from Davis Park or access points west, and involve a 2½ to 10 mile hike. More »
Fire Island Wilderness
The Otis Pike Fire Island High Dune Wilderness contains a variety of barrier island ecosystems in a relatively natural condition. It is the only federally designated wilderness in the State of New York, and is just a short drive from New York City. At 1,380 acres, it is also one of the smallest wilderness areas managed by the National Park Service.

Experience Wilderness
In the wilderness, you can be free to explore, to discover a natural barrier island ecosystem, to savor the solitude. However, you must respect the natural resources and expect to provide for your own safety. There are no venomous snakes on Fire Island to be concerned about, but you're very likely to encounter dense thickets of catbriar and poison ivy, and in warmer weather, vast numbers of salt marsh mosquitoes and ticks. Wearing light-colored clothing and a wide-brimmed hat helps detect ticks and provides protection from the sun. Always be aware of changing weather conditions, tide and ocean conditions and rip currents, and your response to the heat or cold. For your safety, never swim alone.
From March 15 through Labor Day, pets are not permitted in the Fire Island Wilderness area or on the beach in front of the wilderness.

Wilderness Designation
The Wilderness Act (Public Law 88-577) was signed into law on September 3, 1964. In 1975, what became known as the "Eastern Wilderness Areas Act" (Public Law 96-622) provided for the addition of areas that had been severely modified, including the authority to condemn and remove structures, to create designated wilderness in the East.
The Otis Pike Fire Island High Dune Wilderness Act, Public Law 96-585, December 23, 1980, designated approximately 1,363 acres as wilderness in Fire Island National Seashore, and identified 18 more acres as potential wilderness additions.
In October 1999, a Federal Register notice announced that 17 acres of potential wilderness by that time fully complied with wilderness standards, and were officially designated as wilderness.
Approximately 1 acre of potential wilderness exists within the boundaries of Fire Island National Seashore: the nature trail at Smith Point, which runs behind the dunes for about ½ mile from the Wilderness Visitor Center to the ocean beach; and the area of Old Inlet.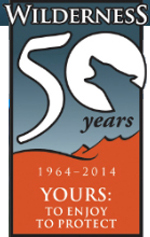 The Wilderness Act was signed into law on September 3, 1964, just a week before the establishment of Fire Island National Seashore. Celebrate both in 2014!


Enjoy Ranger-guided Activities

A variety of interpretive programs are available year round to help you learn more about the natural and cultural resources in the Seashore. Read More

Avoid Mosquitoes

You should make every effort to avoid becoming a part of the Fire Island food chain. Read More

Campers Take the Ferry to Watch Hill

You may check in and drop off a copy of your wilderness camping permit at the Watch Hill Visitor Center, when staffed. Read More
Did You Know?

You may drive to either end of Fire Island, and walk to Fire Island National Seashore from either Robert Moses State Park or Smith Point County Park. You should anticipate long lines of traffic on warm, sunny weekend days. More...