More Park Facilities Reopen During May 2013

Watch Hill and Sailors Haven marinas open May 10. Limited ferry service from Sayville to Sailors Haven resumes May 13 and ferries from Patchogue to Watch Hill start on May 18. Remaining park facilities to reopen by May 25, 2013. More »
Fire Island Wilderness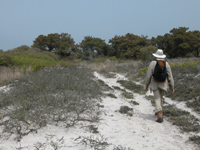 The Otis Pike Fire Island High Dune Wilderness contains a variety of barrier island ecosystems in a relatively natural condition. It is the only federally designated wilderness area in the State of New York. At 1,380 acres, it is also one of the smallest wilderness areas managed by the National Park Service.

Before Hurricane Sandy, you could enter the Fire Island Wilderness from Watch Hill (which is accessible seasonally by ferry or private boat), Old Inlet (accessible by private boat only), or by the Wilderness Visitor Center (located adjacent to Smith Point County Park, accessible year round by car or bus). Privately-owned Bellport Beach splits the wilderness into two zones. (See Park Map and Wilderness-Backcountry Camping Map)
Hurricane Sandy rearranged the landscape, so that you may still enjoy a portion of the Fire Island Wilderness from the east, but as long as the breach at Old Inlet is open, access to both wilderness camping zones is from the west, through Watch Hill.

Backcountry camping has been temporarily suspended since late October 2012, due to impacts of Hurricane Sandy. Beginning May 15, 2013, reservations for wilderness camping permits may be made on-line at Recreation.gov, for overnight stays starting May 25, 2013.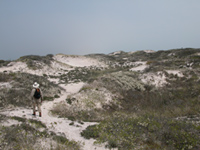 Otis Pike Fire Island High Dune Wilderness is within 60 miles of New York City. This wilderness is so close to millions of urban and suburban populations, yet it provides an opportunity to experience the values of wilderness character. Surrounded and buffered by high dunes and salt marsh, you can actually feel miles away from civilization.
In the wilderness, you can be free to explore, to discover a natural barrier island ecosystem, to savor the solitude. However, you must respect the natural resources and expect to provide for your own safety. There are no venomous snakes on Fire Island to be concerned about, but you're very likely to encounter dense thickets of catbriar and poison ivy, and in warmer weather, vast numbers of salt marsh mosquitoes and ticks. Wearing light-colored clothing and a wide-brimmed hat helps detect ticks and provides protection from the sun. Always be aware of changing weather conditions, tide and ocean conditions and rip currents, and your response to the heat or cold. For your safety, never swim alone.
From March 15 through Labor Day, pets are not permitted in the Fire Island Wilderness area or on the beach in front of the wilderness.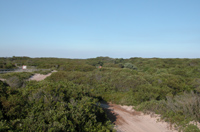 Be a Good Steward
Everyone has a responsibility to leave the island as they found it. Your efforts to leave it better than you found it-by carrying out more than you carried in-are truly appreciated. Leave No Trace!
Learn More
The Wilderness Act (Public Law 88-577) was signed into law on September 3, 1964. In 1975, what became known as the "Eastern Wilderness Areas Act" (Public Law 96-622) provided for the addition of areas that had been severely modified, including the authority to condemn and remove structures, to create designated wilderness in the East.
The Otis Pike Fire Island High Dune Wilderness Act, Public Law 96-585, December 23, 1980, designated approximately 1,363 acres as wilderness in Fire Island National Seashore, and identified 18 more acres as potential wilderness additions.
In October 1999, a Federal Register notice announced that 17 acres of potential wilderness by that time fully complied with wilderness standards, and were officially designated as wilderness.
Approximately 1 acre of potential wilderness exists within the boundaries of Fire Island National Seashore: the boardwalk nature trail at Smith Point, which runs behind the dunes for about ½ mile from the Wilderness Visitor Center to the ocean beach; and the dune crossing boardwalk and bathhouse (vault toilet) at Old Inlet.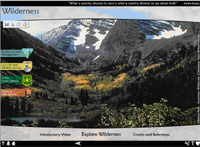 NPS Natural Resource Program Center
Visit "Views of the National Parks: Wilderness"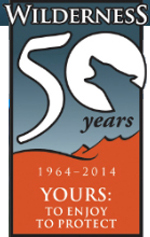 The Wilderness Act was signed into law on September 3, 1964, just a week before the establishment of Fire Island National Seashore. Celebrate both in 2014!


Wilderness Visitor Center & Backcountry Permit Desk Hours

Rangers issue permits for wilderness camping when this office is open. Read More

Campers take the Ferry to Watch Hill

You may get your wilderness camping permit at the Watch Hill Visitor Center, when staffed. Read More

Leave No Trace!

View 9-minute video to learn how.

Avoid Mosquitoes

You should make every effort to avoid becoming a part of the Fire Island food chain. Read More
Did You Know?

As you cross the Great South Bay from Long Island to Fire Island, you may be able to catch a glimpse of the light atop the Fire Island Lighthouse, which appears to flash every 7½ seconds. More...