New Backcountry Camping procedures

Reservations for required permits must be obtained through Recreation.gov. Due to the breach at Old Inlet, access to both east and west wilderness camping zones must now be from Davis Park or access points west, and involve a 2½ to 10 mile hike. More »
Wilderness Management Plan
1983 Wilderness Management Plan
Under guidelines established by the 1964 Wilderness Act, the park's Otis Pike Fire Island High Dune Wilderness was designated on December 23, 1980 (PL 96-585).
Three years later a formal Wilderness Management Plan for this area was approved.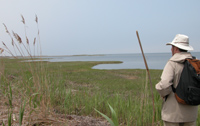 Wilderness Management Plan
Fire Island National Seashore
(November 1983)
25 pages, 186 KB PDF file
Fire Island National Seashore
Wilderness Camping Policy
(1984)
Notice of Designation of Potential Wilderness as Wilderness, Fire Island National Seashore (October 1999)

Learn More
All National Park Service lands are evaluated to determine their eligibility for inclusion within the national wilderness preservation system. Those lands that are determined to possess wilderness character-like the Otis Pike Fire Island High Dune Wilderness-are managed according to the criteria found in the 2006 Management Policies (pdf) (html), Chapter 6.
Director's Order # 41 (May 13, 2013): Wilderness Preservation and Management and NPS Reference Manual 41 (May 2013) provide further guidance for the management of these special places.
To learn more about the National Wilderness Preservation System, visit the following sites:
Fire Island Wilderness

You can experience and appreciate the values of wilderness in this thin ribbon of a barrier island. Read More

Wilderness Visitor Center & Backcountry Permit Desk Hours

Rangers issue permits for wilderness camping when this office is open. While the breach at Old Inlet remains open, however, all permits must be picked up at the Watch Hill Visitor Center. Read More
Did You Know?

Barrett Beach/Talisman is one of the narrowest parts of 32-mile-long Fire Island. You can easily walk from one side of the island to the other—bay to ocean—in 5 minutes or less. More...