New Backcountry Camping procedures

Reservations for required permits must be obtained through Recreation.gov. Due to the breach at Old Inlet, access to both east and west wilderness camping zones must now be from Davis Park or access points west, and involve a 2½ to 10 mile hike. More »
Planning Patchogue Ferry Terminal
October 13, 2008, was the last day of regularly scheduled ferry service for passengers from Patchogue to Watch Hill via the former ferry terminal building on West Avenue. Over the past 25 years, thousands of passengers had filed through this structure on their way to or from Fire Island.
Constructed in 1985, the 1,000 square foot building had been envisioned as a temporary structure until a recommended Patchogue Ferry Terminal and Interactive Visitor Learning Center could be funded and built.
A part of that vision was completed by early 2010, just in time for the opening of the visitor season in May.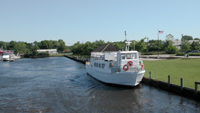 The Patchogue-Watch Hill Ferry Terminal grounds and facilities are owned by the National Park Service, and the ferry service is provided by an official NPS concessioner. Since 1968, when Fire Island National Seashore's Watch Hill development first opened, ferry service has been provided to this site by the Davis Park Ferry Company, Inc.
The Patchogue-Watch Hill Ferry Terminal is within easy walking distance of Long Island Railroad (LIRR) terminal in Patchogue, making Watch Hill the most convenient Fire Island destination for people using public transportation. (This is also one of the only places where you may easily get to a designated wilderness area via public transportation.)
For the past few years, the LIRR has provided special transportation packages to make the excursion from Manhattan even more affordable.
What Lies at the Other End of This Ferry Run?
Once you get to Watch Hill, you can enjoy a variety of island experiences in a rare car-free environment.
The Watch Hill development is Fire Island National Seashore's largest concession-operated facility. It includes 198 boats slips, a seasonal restaurant and bar, snack bar and camp store, and a walk-in tent campground. A vibrant nonprofit group, the Friends of Watch Hill, helps support facilities and programs through their active fundraising efforts.
Watch Hill includes a seasonal visitor contact station, where you can enjoy exhibits and visit with friendly park rangers and volunteers. During the summer, you can join a number of free tours and programs, including a ranger-guided canoe tour of the nearby salt marsh.
You can enjoy a boardwalk stroll through a variety of barrier island habitats: from salt marsh to maritime forest to dune and swale.
And of course, a short walk from the ferry landing there's the Atlantic Ocean beach! Miles of relatively uncrowded white quartz sand beaches, striated occasionally with ribbons of Fire Island's finer garnet and magnetite sands. Lifeguards are on duty during the summer, but beachcombing is available all year.
Watch Hill is also one of the gateway's to New York's only federally designated wilderness area. The Otis Pike Fire Island High Dune Wilderness stretches along 6 miles of the barrier island between Watch Hill and Smith Point.
To the east, the wilderness area is prime nesting ground for threatened and endangered species like the piping plover. Your chances of seeing one of these birds (and adding it to your birding life list) are pretty good at this location from May to late August.
And a short walk to the west takes you to the small island community of Davis Park, one of seventeen which was developed on Fire Island before the Seashore was established in 1964.
A New Portal to Watch Hill
The new Patchogue-Watch Hill Ferry Terminal is expected to be completed before Fall 2009. The new building will have larger, modern restrooms, a seasonal ticket booth, a covered indoor waiting area for passengers, with maps and information and a small year-round multi-purpose room.
The new facility will be connected to the Village of Patchogue's sewer system, which will help alleviate the amount of nutrients seeping into the Patchogue River from current septic systems. While photovoltaic solar power was removed from base bid of the project to keep costs down, it is still an option for the building. The inclusion of a geothermal system will help reduce the cost of heating and cooling for the new building. The building is also built at a higher elevation than its predecessor, to keep it above current flood levels. The bulkhead in front of the building will also be replaced, and a large deck will provide an overlook to the Patchogue River.
The project is managed by the National Park Service's Denver Service Center. The construction contract went to a small business general contractor from Massachusetts (Classic Site Solutions, Inc.). Components of the work are expected to be subcontracted to local firms.
Patchogue Ferry Terminal: A History of Planning and Funding
Fire Island National Seashore was established on September 11, 1964. (Public Law 88-587) On November 10, 1978 the boundaries of Fire Island National Seashore were expanded to include mainland terminal and headquarters sites, not to exceed a total of twelve acres, on the Patchogue River. (Public Law 95-625)
Based on recommendations from the 1977 Fire Island National Seashore General Management Plan (GMP), a 10-acre parcel was located at the head of the Patchogue River. Selected from among 24 potential mainland sites for the headquarters/terminal location, this property was chosen for its excellent location adjacent to major road arteries, in close proximity to the Patchogue Station of the Long Island Railroad, the accessibility to the Patchogue River for park boat operations, and the availability of land. The National Park Service purchased the properties at 166 West Avenue and a temporary ferry terminal was constructed in 1980.
A 1986 Development Plan for the Patchogue Ferry Terminal Site acknowledged that existing conditions failed to provide sufficient management support facilities or adequately serve the public.
By the early 1990s, Federal Highway Project funding was allocated for upgrading the Mainland Ferry Terminal site on West Avenue, and a 178-car parking lot was constructed in 1991.
In June 1995, Bargmann Hendrie + Archetype prepared a schematic design plan for the Fire Island Ferry Terminal and Interactive Learning Center, which incorporated a 1994 concept exhibit design prepared by the State University of New York (SUNY). At a projected cost estimate of just under $2.7 million, funding was envisioned to be a collaborative effort between public and private sector components including the National Park Service, New York State Department of Environmental Conservation, the Village of Patchogue, SUNY, and private/commercial investors and tenants.
In February 1996, Archetype Architecture, Inc. prepared plans for rehabilitating and relocating park headquarters and maintenance buildings in Patchogue, at an estimate of under $1.8 million. Construction was expected to start by 1997, pending funding. The funding never materialized at that time for either project.
In May 1999, Bargmann Hendrie + Archetype, Inc. produced an updated Development Concept Plan for the Patchogue Ferry Terminal Site. The National Park Service again submitted requests to fund the ferry terminal plans, construction and compliance documents and a Fire Island Ferry Transportation Study.
The Fire Island National Seashore Waterborne Transportation System Plan was completed by the U. S. Department of Transportation's John A. Volpe National Transportation Systems Center in February 2001.
In January 2002, an Environmental Assessment was completed for this and four other closely related projects: new passenger orientation center; new ferry terminal; new headquarters; renovated and elevated Patchogue Maintenance Facility (PMF) building; replacement of bulkheading along the Patchogue River.
After a period of public review, attention was again turned toward preparation of construction drawings and securing funding for the project.
By late 2003, plans had been approved and the drawings were about 95% complete for both buildings. The facilities proposed were:
Ticket sales booth for riding the ferry to Watch Hill, Sailors Haven or Barrett Beach
Information and educational media with both fixed and changing exhibits, interpreting natural resources of the river, bay and barrier island; maritime history of the area; and pre-visit safety
Restrooms
New headquarters building to replace the converted residential facility on Laurel Street
The NPS submitted a proposal to the New York State Department of Transportation for a grant under the Ferry Boat Discretionary (FDB) Program of the Transportation Equity Act for the 21st Century. Senate Bill 1072 was passed on February 12, 2004 and the House bill (H.R.3550) was passed on April 4, 2004. Among the components of H.R. 3550 is $2 million for the construction of the Fire Island Ferry Terminal in Patchogue.
[FY02 FDB Award of $200,000 for Fire Island terminal infrastructure.]
In September 2007, Fire Island National Seashore was awarded $200,000 from the Alternative Transportation in Parks and Public Lands (
ATPPL
) program administered by the U. S. Department of Transportation (DOT). This funding enables the park to update and finalize its 2003 design for the Patchogue Ferry Terminal. The completed plan allows the NPS to qualify for additional construction funding in FY2008 and FY2009. The park is required to provide a 20% match ($600,000 in NPS FY2008 repair/rehab funds), which will be used to replace bulkheading and decking at the Patchogue Ferry Terminal.
The High Priority Projects Program provides designated funding for specific projects identified in SAFETEA-LU. Safe, Accountable, Flexible, Efficient Transportation Equity Act: A Legacy for Users (SAFETEA-LU) represents "the largest surface transportation investment in our Nation's history. The two landmark bills that brought surface transportation into the 21st century—the Intermodal Surface Transportation Efficiency Act of 1991 (ISTEA) and the Transportation Equity Act for the 21st Century (TEA-21)—shaped the highway program to meet the Nation's changing transportation needs."
As an additional component of the planning and compliance process, a Draft Statement of Findings for Executive Order 11988 ("Floodplain Management"), Ferry Terminal, Fire Island National Seashore, Patchogue, Long Island, New York was available for public review and comment in May and June 2008. Permits have been issued by New York State Department of Environmental Conservation for construction of the bulkheads.
A groundbreaking ceremony was held on October 17, 2008. Removal of the old terminal building and construction on the new Patchogue Ferry Terminal and bulkheading was started in November 2008, and completed in April 2010.
Planning for the originally proposed Patchogue Visitor Center or Interactive Learning Center is no longer being considered. Efficacy of the new ferry terminal's interior and exterior exhibit space will be analyzed to determine if it satisfies the park's needs.
A new General Management Plan for Fire Island National Seashore is currently being crafted, with opportunities for public review of alternatives for future development and use at all park sites.
The total amount anticipated to complete the design, construction, furnishings, landscaping and related site work for the Fire Island Ferry Terminal in Patchogue is currently expected to be $5.76M:
$200K design funds (FY2007 ATPPL funding)
$1.6M High Priority Transportation Funds through the Omnibus Transportation Bill of 2006 (confirmed with a 20% NPS match)
$600K in NPS FY2008 repair/rehab funds
$2M Ferry Boat Discretionary Program of the Transportation Equity Act (funded in FY2008)
$475K FY2009 Ferry Boat Discretionary Program funds
$890K American Recovery and Reinvestment Act (funded in FY2009)
This level of funding for the ferry terminal includes the construction of a ticket booth, restrooms, and a multi-purpose room waiting area for passengers, plus the installation of numerous sustainable design features.
Partnership with the Village of Patchogue and Others
Over the years, Fire Island National Seashore has been working closely with the Village of Patchogue as a member of the Riverfront Advisory Committee. The Village released its Patchogue River Maritime Center Plan in November 1999.
In 2006, the Patchogue River was designated an official Bayway Destination by the South Shore Estuary Reserve, and installed an interpretive marker and sign. The Village of Patchogue signed an agreement with the National Park Service to help maintain a small waterfront patch of Seashore land adjacent to the Patchogue-Watch Hill Ferry Terminal, and has installed benches and lighting.
In September 2008, the Village released a Draft Local Waterfront Revitalization Program/Harbor Management Plan and Generic Environmental Impact Statement for public review and comment.
Because the village projects will impact visitor use at the park facility, and conversely the park's proposed construction will affect the village's planning efforts for riverfront improvements, both parties are sharing their plans. We are exploring partnership opportunities with the Village that will enable us to coordinate our efforts for open space, access, and parking, with Fire Island National Seashore's Patchogue Ferry Terminal serving as an anchor to the Patchogue Riverfront improvements.
Public Transportation

Bus stop at Patchogue is less than ¼ mile from the Watch Hill Ferry Terminal. Read More

Enjoy the sunset from Watch Hill's marina.

Watch Hill, in the middle of Fire Island, lies across the Great South Bay from Patchogue, NY. Read More

Ferries and Water Taxis

provide seasonal access to a number of locations on Fire Island. Read More
Did You Know?

The Piping Plover is one of Fire Island National Seashore's threatened and endangered species. It makes its nest above the high tide line on clean, undeveloped beaches in the early spring. Chicks are fledged by late summer. More...