New Backcountry Camping procedures

Reservations for required permits must be obtained through Recreation.gov. Due to the breach at Old Inlet, access to both east and west wilderness camping zones must now be from Davis Park or access points west, and involve a 2½ to 10 mile hike. More »
Beaches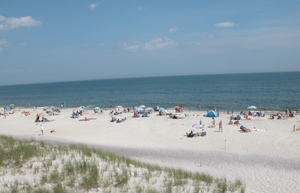 Fire Island's beaches are composed mainly of white quartz sand of varying grain size. Occasional layers of heavy mineral sands-which include grains of garnet and magnetite-appear as colored bands among the predominantly white sediment. There are also small amounts of feldspar, tourmaline, mica and other minerals. Occasionally, you will find pebbles or fragments of shell on the beach.
The particle size of beach sand is layered, depending on the energy of the depositing waves and wind.
The size and shape of the beach is always changing. While sediment is constantly being moved more or less perpendicular to or from shoreline by tidal and wave action, the predominant net movement of sediment along Fire Island's coast is parallel with the shore through the effects of longshore currents. The movement is called longshore sediment transport and its rate is dependent on wave energy and the angle at which waves strike the coast.
What's Fire Island's sandy beach made of?
Long Island is composed of material left by glaciers thousands of years ago. The South Shore is composed of the finer glacial sediments, reworked by waves and currents to form the coastline we see today.
NPS Natural Resource Program Center
For More Information
Learn more about Coastal Geology in our National Parks:


Did You Know?

The 4-day Fire Island Trek began as a special event in September, 2004, in celebration of Fire Island National Seashore's 40th anniversary. The program has been continued as a means to showcase the variety of resources and recreational and educational opportunities that exist on Fire Island. More...