Enjoy Getting Outdoors during Fire Island's November 2011 Programs
Date:
November 1, 2011
The wide array of special activities offered at Fire Island National Seashore this November reflect the diverse natural and cultural resources preserved in this unit of the National Park System. While most of these programs represent traditions and values that help make these places significant to many people, some programs may even be an enticement to get outdoors long after the traditional "day at the beach" is just a pleasant memory.
Fire Island National Seashore's Special Programs in November 2011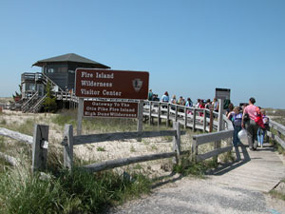 Wilderness Visitor Center programs this month celebrate the values of dark skies, wilderness, and the opportunity to observe and study wildlife. The Wilderness Visitor Center is located at the southernmost end of the William Floyd Parkway on Fire Island, and parking is available at Smith Point County Park. These programs are free; call 631-281-3010 for information or directions.
Friday, November 4, 7:00 - 9:00 p.m.: "Star Watch: A Night of Astronomy" features a fascinating slide show by guest astronomer Tom Carey, followed by an opportunity view the night sky by telescope, weather permitting. (This program will also be held on December 2, 2011.) The value of Fire Island's "natural lightscapes" reaches far beyond our ability to enjoy observing the stars and planets. The brightness of the night sky and the impact of artificial lighting are used as a measure of wilderness character in the Otis Pike Fire Island High Dune Wilderness. Darkness is also a natural habitat for many forms of wildlife and plants. Learn more!


Saturday, November 5, noon: Children's Hour: Seaside Stories & Crafts - "Animal Adventures" is geared for children ages 5-7, but these programs can be enjoyed by observers of all ages. Fire Island National Seashore's variety of habitats provide opportunities to view and learn about several native animals. Viewing wildlife is one of the values that makes Fire Island a very special place for people, too. Learn more about protecting species in our national parks.


Sunday, November 13, 1:00 - 3:00 p.m.: Fire Island Photography Workshop includes an indoor session to learn a few tips and techniques for photographing the wildlife, plants, natural landscapes, structures and people that define the character of Fire Island. Diane Abell, a park planner and professional photographer, will share her passion for this art form that has honed her skills of observation. "Since I have devoted so much of my personal time to the pursuit of birds and other wildlife from behind the lens," stated Abell, "I have gained a greater appreciation for the details of the world around us." Bring your own camera to discover how its settings can affect the outcome of your work. Weather permitting, Abell will lead an outdoor excursion to practice nature and wildlife photography skills. Abell's work has been displayed in the park's art and photography shows at the Fire Island Lighthouse and Patchogue-Watch Hill Ferry Terminal, as well as other Long Island venues. Her philosophy: "Think about our environment as you capture it on camera. Your appreciation of nature and your skill at capturing the beauty of nature can be used to develop a conservation ethic for yourself and for those who view your photographs." Learn more about Fire Island National Seashore's Annual Art Shows and Photography Contests.


Sunday, November 20, 10:00 a.m. - noon: Exploring Fire Island Wilderness includes a brief indoor presentation followed by a short ranger-guided ramble through New York State's only federally-designated wilderness area. At 1,380 acres, the Otis Pike Fire Island High Dune Wilderness is also one of the smallest wilderness areas in the country. While we each have our own idea of what wilderness means, park ranger Jason Flynn, who monitors and patrols Fire Island Wilderness, will share his perspective of this rare but valuable resource, which lies within 60 miles of New York City. The Fire Island Wilderness may be the first and perhaps only wilderness experience for many people. A positive experience here on Fire Island may help foster an appreciation and understanding of wilderness values throughout the country. Accessible by public transportation during the summer, there are limited opportunities for wilderness camping year-round, as well as day hikes along the beach and into the wilderness.

Learn more about

Fire Island Wilderness.


Friday, November 25, 9:00 a.m. - noon: After-Thanksgiving Wilderness Hike provides an opportunity to join a 3-mile round-trip ranger-guided on the beach and through the Fire Island Wilderness. Dress for the weather and wear comfortable hiking shoes!

Saturday, November 26, noon: Junior Ranger Workshop: Wilderness Wildlife - Animal Tracking (for ages 8-12). There's more wildlife on Fire Island than you usually see. Find evidence of these animals as you study their tracks. Children can also work on their Junior Ranger badges during this program. Learn more about Fire Island's Junior Ranger Program.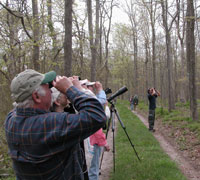 The William Floyd Estate and its Old Mastic House are only open Friday through Sunday until November 13. Grounds are open 9:00 a.m. to 4:00 p.m., and free guided house tours are available every half-hour from 10:00 a.m. until 4:00 p.m. Two special walking tours are offered this November.

Saturday, November 5, 10 - 11:30 a.m.: Old Mastic House: Cultural Landscape Walking Tour is an easy 1- to 2-mile walk around the grounds of the historic William Floyd Estate. On this tour participants can observe evidence of changes to the landscape as the Floyd family adapted their land from a plantation and working farm to a summer estate and hunting preserve.


Sunday, November 20, 9:00 - 11:30 a.m.: Late Autumn Old Mastic Bird Walk provides an opportunity to observe and study the late fall birdlife in the woods, fields and marshes of the William Floyd Estate, during an easy 3-mile stroll. Dress for the weather and bring your binoculars!

The William Floyd Estate is open on Veterans Day, Friday, November 11. Several war veterans lived in this house, including William Floyd (1734-1821), a Revolutionary War veteran and signer of the Declaration of Independence. John G. Floyd, Sr. (1806-1881), his grandson who also called the Old Mastic House home, was a veteran of the Civil War. All three of the sons of John T. Nichols and Cornelia Floyd Nichols (1882-1977) fought in World War II. William Floyd Nichols (1911-1989), their first-born child, earned the Bronze Star and Purple Heart. His uniform is currently on display in the Old Mastic House.
For more information, or to make reservations for programs, call 631-399-2030.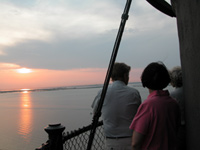 The Fire Island Lighthouse is offering free tower tours on Veterans Day, November 11, for all veterans with ID!
The new Fresnel Lens Building at the Fire Island Light Station is still open, providing an opportunity to see and learn about the original 1858 first order Fresnel lens. This massive brass and glass prism artifact was recently restored by a team of former U. S. Coast Guard lampists.
Special programs this month at the Fire Island Lighthouse include:
Saturday, November 12, 6:00 a.m.: Early Morning Tower Tour. $20 fee charged for this special program, which includes a light breakfast and view from the top of the lighthouse. Reservations required.

Saturday, November 19, 9:00 a.m.: Light Keepers Behind the Scenes Tour. $15 fee.

Saturday, November 26, 10:00 a.m. - 3:00 p.m.: Annual Tree-Trimming Event. Free program.

Saturday, November 26, 4:00 p.m.: Thanksgiving Weekend Evening Tower Tour. $15 fee.
The Fire Island Lighthouse and its Keepers' Quarters museum are operated by the Fire Island Lighthouse Preservation Society. Interpretive fees are charged by the Society to help defray the cost of operating the facility for the National Park Service.