National Junior Ranger Day Program at Fire Island National Seashore on April 23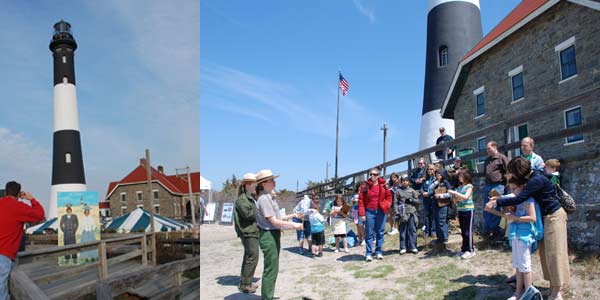 News Release Date:
April 15, 2011
Contact:
Paula Valentine
, 631-687-4759
Contact:
Irene Rosen
, 631-687-4765
On Saturday, April 23, from 11:00 a.m. to 4:00 p.m., Fire Island National Seashore will wrap up the 2011 National Park Week with a special National Junior Ranger Day workshop on the grounds of the Fire Island Lighthouse. Children may learn to make seaside crafts, participate in several hands-on activities and will be given the opportunity to attend a variety of ranger-guided programs. Special activities include "Orienteering," offered at noon; "Basic Nature Photography" at 1:00 p.m.; and "Animal Tracking" at 2:00 p.m. Advance reservations are required for the 3-mile, 4-hour "Discovering Fire Island" hike, for kids ages 9 and older. Some activities will also be available in Spanish this year. Participants can complete any four of twelve activities in the new Fire Island National Seashore National Junior Ranger Day Passport Book, and earn a special Junior Ranger patch.
Parking for this event will be at Robert Moses State Park Field #5; a fee of $8 per vehicle is collected on weekends at this time. The Fire Island Lighthouse is a ¾ mile walk from the parking area. Food service is not available at the Lighthouse so pack your own lunch, drinks and snacks. Dress appropriately for the day's weather, which is typically cooler on the island.
Families and kids of all ages are welcome to join the day's activities. Junior ranger booklets are also available for ages 5-7, 8-12, and 12+. For more information about these programs, contact Fire Island National Seashore's Interpretation Office at 631-687-4765.
National Junior Ranger Day is celebrated nationwide as a part of National Park Week. Participating in the day's activities allows children and their families to explore and learn about how the National Park Service protects parks, and how they can help, too. More information is available at www.nps.gov/npweek.
# # #
2011 National Park Week flyer

Español
---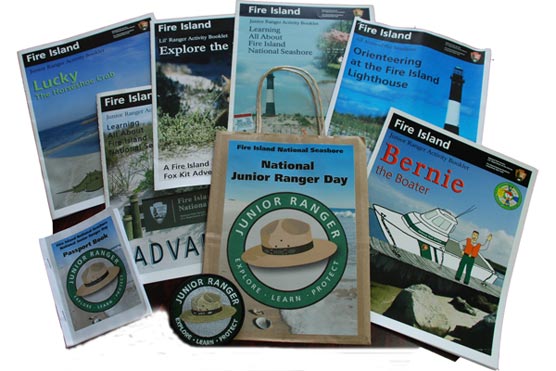 A new feature this year is the Fire Island National Seashore National Junior Ranger Day Passport Book. "We wanted to create a take-home item to help kids and their families remember the day, and also spark their interest in visiting other parts of Fire Island National Seashore," said Interpretive Specialist Kristin Santos.
There are twelve activity pages in this souvenir booklet that can be stamped as the activity or program is completed. In addition to the three 45-minute guided programs or the 4-hour hike, there will be six activity booths and other designated stations.
Orientation to Fire Island National Seashore
3-mile Discovering Fire Island hike
Fire Island Lighthouse Keepers Quarters Museum
Cultural History: Colonial Games from the William Floyd Estate
Maritime History: Knots and Knot-tying
45-minute program: "Orienteering"
Barrier Island Habitats: Animal Track Matching Game
45-minute program: "Animal Tracking"
Sampling like a Scientist: Life Underwater - Horseshoe Crabs
Threatened & Endangered Species: Migratory Bird Game
45-minute program: "Nature Photography"
Other National Parks on Long Island: Sagamore Hill National Historic Site activity
Three craft stations will be set up to provide more fun for all ages.
"The thematic activities and crafts we've selected this year," stated Santos, "reflect the diversity of natural and cultural resources the Seashore protects, and help children learn more about them in an engaging way."
New this year, for children 9 and older, is a 3-mile "Discovering Fire Island" hike, planned for Saturday, April 23 from 11:30 a.m. to 3:30 p.m., rain or shine! This program meets the criteria of First Lady Michelle Obama's Let's Move Outside initiative. "This 4-hour program includes a hike past the historic light station grounds, through two of Fire Island's seventeen communities, and back along the bay beach," said Irene Rosen, Fire Island National Seashore's supervisory lead interpreter. "This invigorating discovery hike provides a glimpse into life on a barrier island for people and wildlife alike."

Register in advance by calling the Office of Interpretation at 631-687-4765. Dress for the weather, wear comfortable shoes for hiking in sand, and pack a lunch and drink.

Fire Island Lighthouse Exhibits

provide an opportuntiy to learn more about maritime history. Read More

Fire Island Lighthouse

offers special after-hours tours and other programs. Read More

For Kids: Junior Ranger Patch or Badge

is the reward for completing Fire Island's Junior Ranger Workbook. Read More