Patchogue Ferry Terminal Groundbreaking Ceremony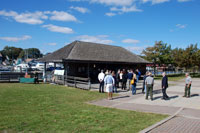 On a symbolically bright and sunny mid-autumn day, a small group of park supporters, local politicians and other interested people gathered for a long-awaited sight. Fire Island National Seashore finally launched the construction of a new Patchogue-Watch Hill Ferry Terminal with a groundbreaking ceremony on Friday, October 17, 2008.
The previous Patchogue-Watch Hill Ferry building, constructed in 1985 as a temporary facility, was little more than a covered passageway between a ticket booth and inadequate restroom facilities.
The new facility, at 4,000 square feet, will be more than twice as large as its predecessor. It will be constructed on higher ground, with a deck overlooking the Patchogue River. The windows of the building's lobby and multi-purpose room overlook a vibrant, developing maritime center in the Village of Patchogue, New York.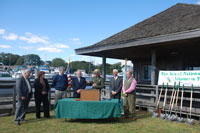 During the brief ceremony, local political leaders shared their support for the project. The significance of Fire Island National Seashore to the local economy, and the value of park resources to people near and far were among the accolades shared by speakers.
Village of Patchogue Mayor Paul Pontieri articulated the many benefits of being a gateway community to a National Park Service area, especially as the community embarks on a Local Waterfront Revitalization Program and other improvements.
Town of Brookhaven and Suffolk County officials praised the efforts of multiple partners to enhance the vitality of the Patchogue River waterfront.
New York State representatives expressed their gratitude that this project is a further implementation of a larger transportation improvement program, and furthers the goals of the South Shore Estuary Reserve Bayway program.
Congressman Timothy Bishop, who had introduced legislation for some of the funding, was on hand to personally see the initiation of this long-awaited project.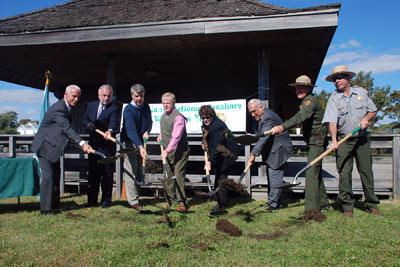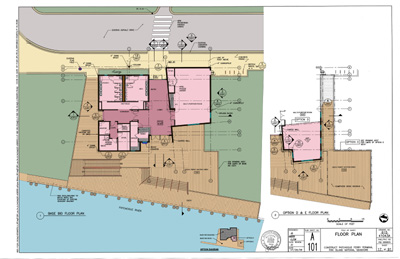 The Patchogue-Watch Hill Ferry Terminal is only part of a larger vision that had been proposed in the park's 1978 General Management Plan. A visitor center for Fire Island National Seashore—with an interactive learning and education center—was first planned in 1986 and revised in 1995, with compliance documents completed in 2002. However, funding has never been secured.
During the groundbreaking ceremony, Patchogue Chamber of Commerce president Charles Baker expressed his commitment to help find and support the partnerships that will help this larger vision materialize.
Those sentiments are echoed by the Friends of Fire Island National Seashore, who have also been supportive of completing a visitor center for the park.
On October 21, a pre-construction conference was held with the general contractor, Classic Site Solutions, Inc., followed by a notice to proceed. Staging of materials and removal of the old building soon followed. Replacement of 150 feet of bulkhead and construction of new building began after the annual Patchogue River Holiday Parade was held on November 23. The building is not expected to open until late fall 2009, with a temporary ticket booth set up for the summer season.