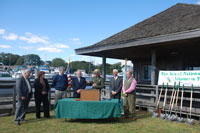 During the brief ceremony, local political leaders shared their support for the project. The significance of Fire Island National Seashore to the local economy, and the value of park resources to people near and far were among the accolades shared by speakers.
Village of Patchogue Mayor Paul Pontieri articulated the many benefits of being a gateway community to a National Park Service area, especially as the community embarks on a Local Waterfront Revitalization Program and other improvements.
Town of Brookhaven and Suffolk County officials praised the efforts of multiple partners to enhance the vitality of the Patchogue River waterfront.
New York State representatives expressed their gratitude that this project is a further implementation of a larger transportation improvement program, and furthers the goals of the South Shore Estuary Reserve Bayway program.
Congressman Timothy Bishop, who had introduced legislation for some of the funding, was on hand to personally see the initiation of this long-awaited project.