Early Closing

Due to a staff workplace enrichment and professional development opportunity event, this site will be closing at 3 p.m. on Friday December 13th. We will reopen on Monday December 16th at our regular time. We apologize for any inconvenience.
Battle Week 2011 at Federal Hall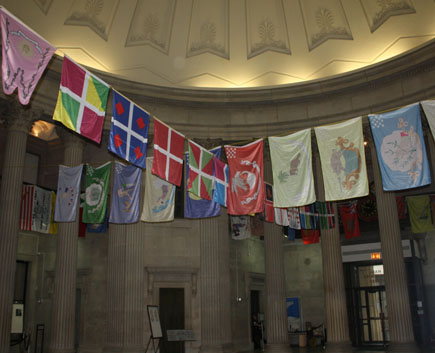 NPS
In August of 1776, the British launched a campaign against George Washington's forces in New York, eventually forcing the Continental Army to retreat across the Hudson River into New Jersey. This year marks the 235 th anniversary of one of the notable skirmishes of the campaign - the Battle of Brooklyn.
Federal Hall National Memorial is playing a dual role in the observance, known as Battle Week. On Friday, Aug. 19 at 12:30 p.m., a National Park Service ranger will read the Declaration of Independence to mark the official start of Battle Week, which runs from Aug. 19 through Aug. 28. Federal Hall is also hosting a special exhibition from Aug. 17 to Aug. 24 of nearly 80 regimental flags representing units from across the colonies that fought during the American Revolution. This is the third year the exhibit has been shown at Federal Hall.
New this year are 17 flags representing French regiments that fought alongside the American patriots. Surprisingly, among the French flags are two belonging to French regiments made up of Irishmen, the Walsh and Dillion regiments. According to Eric Kramer, a representative of the Battle of Brooklyn Memorial Society, which organizes the annual exhibit, this is the first time all 17 French flags have been displayed together in New York City.
To learn more about Battle Week and the various commemorative events, please visit www.theoldstonehouse.org.