Ranger - Led Programs
Note that Ranger Programs Change by Season
December - March - Dry Season - Increased Ranger programs
April - November - Wet Season - Reduced Ranger programs
SCHEDULE OF FREE RANGER LED PROGRAMS IN EVERGLADES NATIONAL PARK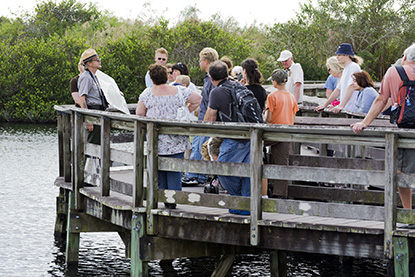 A favorite activity of visitors to national parks is programs led by a Park Ranger. These are special programs in all national parks that interpret the parks natural and cultural resources in a way that goes beyond what a visitor might get on their own.
Ranger guided programs for Everglades National Park are increased during the high visitor season, where additional seasonal rangers allow the park to provide more interpreted activities.
Each area of the park has unique programs that focus on that districts resources, to plan your visit pick an area and check out the types of ranger guide programs you may be able to enjoy. From there click on the current schedule that's downloadable from the parkwide schedule or the district webpage.