Ranger - Led Programs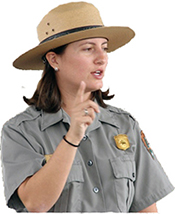 For almost 100 years Park Rangers have been providing free programs to visitors.
Plan to include one of these free programs in your trip to the Everglades.
Schedules change regularly and are posted in the table below for each area of the park. As the park covers nearly 2400 square miles each district of the park develops programs that suit that area of this massive national park.

Below the table you'll find a map and directions to each area of the park.
SCHEDULE OF FREE RANGER LED PROGRAMS IN EVERGLADES NATIONAL PARK

Location
Phone
December Through March there are increased Ranger Programs
Check schedules to see the most current offerings
Schedule
Royal Palm
(305) 242-7700

03/30/14 - 04/12/14

click
Flamingo
(239) 695-2945
04/06/14 - 04/19/14
click

Shark Valley
(305) 221-8776

1/12/14 - 4/12/14

Gulf Coast
(239) 695-3311
12/21/13 - 01/06/14

click
---
---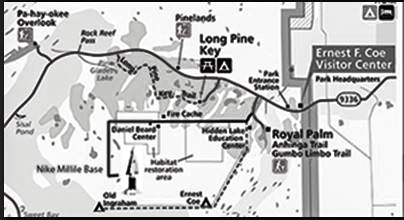 Ranger Guided programs are available from December to April, please see our schedule for current information. A new volunteer group has recently formed, the Friends of Everglades Nike group is always looking for people who are interested in preserving our this part of our American History, contact us for more information.
Flamingo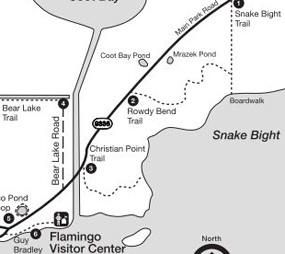 Download South Florida National Parks Map

Directions to Flamingo
Flamingo Visitor Center at 239-695-2945.
---
---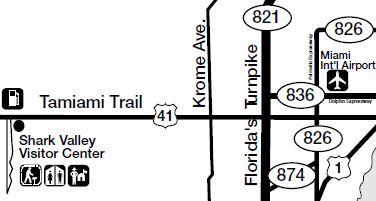 Download South Florida National Parks Map

Ranger guided programs are now available along with naturalist guided tram tours.
Call (305-221-8776) for updated schedules of activities and fees.
---
---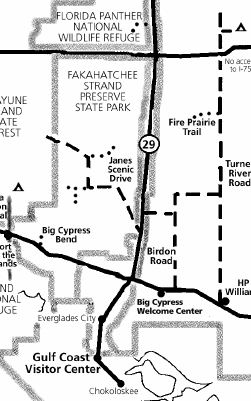 Download South Florida National Parks Map

Ranger guided programs of the Ten Thousand Islands, along with naturalist guided boat tours are being offered.
For details or fee information, call the Gulf Coast Visitor Center at 239-695-3311.


Did You Know?

Due to the global significance of Everglades National Park, it has been designated a Biosphere Reserve, a World Heritage Site, and a Wetland of International Importance.