Outdoor Activities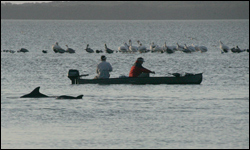 Everglades National Park is the third largest park in the lower 48 states, covering 2400 square miles! There is no shortage of activities for individuals, groups, or families to enjoy outdoors.
The diverse habitats allow for enjoyable activities ranging from hiking, canoe and kayaking, biking, fresh and saltwater fishing, and camping in the ultimate wilderness.
Check out some of the activities highlighted on the right to learn more about your outdoor interests.


Did You Know?

Over fifty-nine color varieties of the Liguus Tree Snail have been seen in and around the Everglades ecosystem. They graze on the algae and lichen that grows on smooth-barked trees. During the dry winter months, they are usually sealed to these trees to conserve moisture.