Outdoor Activities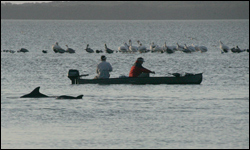 Everglades National Park is the third largest park in the lower 48 states, covering 2400 square miles! There is no shortage of activities for individuals, groups, or families to enjoy outdoors.
The diverse habitats allow for enjoyable activities ranging from hiking, canoe and kayaking, biking, fresh and saltwater fishing, and camping in the ultimate wilderness.
Check out some of the activities highlighted on the right to learn more about your outdoor interests.


Did You Know?
Mermaid sightings have been reported by sailors throughout history who often blamed the part-woman, part-fish beings for leading them astray. But folklore experts believe that what those sailors were seeing were not mermaids, but rather air-breathing manatees, or their dugong relatives.