Outdoor Activities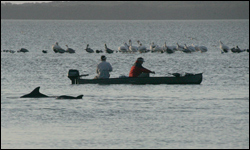 Everglades National Park is the third largest park in the lower 48 states, covering 2400 square miles! There is no shortage of activities for individuals, groups, or families to enjoy outdoors.
The diverse habitats allow for enjoyable activities ranging from hiking, canoe and kayaking, biking, fresh and saltwater fishing, and camping in the ultimate wilderness.
Check out some of the activities highlighted on the right to learn more about your outdoor interests.


Did You Know?

Everglades National Park is home to over 1,000 species of plants. The Morning Glory pictured here is a native species. However, over 20% of the plants here are non-native. Researchers in the Park are working to remove those that cause the most problems.