Long Pine Key Campground open Seasonally November - May
(closed in the summer)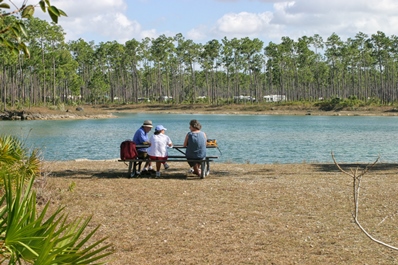 National Park Service
Long Pine Key Campground reopened November 15 on a limited basis for the shoulder season.
The remainder of the Long Pine Key Campground will reopen no later than Christmas. As this campground does not take reservations availability is first come first serve, in the unlikely event that there are no spots available campers can continue south to the Flamingo camping area.
Directions: Long Pine Key Campground is located seven miles (11 km) from the main entrance, just off the main road. It has 108 drive up sites for tents and RVs, including one group site. There are rest rooms, water, and a sewer dump station with fresh water fill, but no showers or hookups. A picnic area is nearby, with fire grates and rest rooms. There is also a pond for fishing, an amphitheater for winter programs, and several hiking trails in the area Long Pine Key .
RESERVATIONS
No Reservations are accepted for individual camping sites. These sites are available only on a first come, first serve basis. There is generally enough spaces to meet the demand.
Group Reservations - During the park's busy winter season larger groups can make reservations - (Up to 15 people) Reservations for Group Sites between November 20th - April 15th please call 305-242-7745 or call the Long Pine Key Campground directly at 305-242-7873 between November 20th - April 15th only.