Rodney Camauf, National Park Service
Camping at the southern tip of Everglades National Park is an experience to remember!
FLAMINGO CAMPGROUND

Located on the southernmost tip of the Florida peninsula this camping area is busiest during the winter season December - April. During the warmer wet season of the summer portions of the campgrounds are closed.
As weather improves around Mid-November camping options are increased at Flamingo and by mid-January all camping sites are open.
CAMPGROUND SITES:
Directions: The Flamingo Campground is located 38 miles south of the main park entrance in Homestead.
INDIVIDUAL SITES: There are 234 drive-in sites (55 with a view of Florida Bay) and 40 walk-up sites (9 on the water's edge).
GROUP SITES: There are 3 walk up group sites on the waters edge.
RV SITES: T-loop has 65 sites, all the large pull-through type and 41 sites in the T-Loop with electrical hookups.

AMENITIES AND ACTIVITIES:
Showers are now solar-heated, two dump stations, picnic tables, grills, and an amphitheater for winter programs.

Flamingo has several hiking trails and canoe trails, and opportunities for saltwater fishing are plentiful.

The brochure link below has details on camping in this area that will help you plan your visit.

Check the Visitor Center for a daily schedule of Ranger guided programs.
FEES:
INDIVIDUAL SITES: No reservations are accepted during summer season - and highly encouraged for winter season - see instructions below.
INDIVIDUAL: Frontcountry campsite nightly fees are $20.00 ($10.00 for senior citizen 62 or over and for access pass holders (permanently disabled)).

GROUP SITES: You can reserve a group site for up to 15 people, which are $30.00 per night online or by calling 1-877-444-6777.
RV SITES: Camping fees at the 41 sites in T-Loop in Flamingo with electrical hookup are $30.00 a night per site or $15.00 per site for Senior and Access pass holders. You must reserve these sites online or by calling 1-877-444-6777 for reservations between Nov. 20th - April 15th. Reservations are not needed from April 15th - Nov. 20th. This fee applies to anyone using these sites, regardless of whether they use electric or not.
NOTE - Electric sites must be reserved through the online reservation system. See information below.
RESERVATIONS:
Reservations for Flamingo during the busy season December - April are highly recommended.
Reservations can be made on line by clicking the box below or call 1-877-444-6777 (International 518-885-3639) for dates after November 20th - April 15th. During the summer reservations are not needed.
NOTE: the reservation company will declare the campground full when they have sold their allotment of campsites. Many first-come first-served campsites still may be available.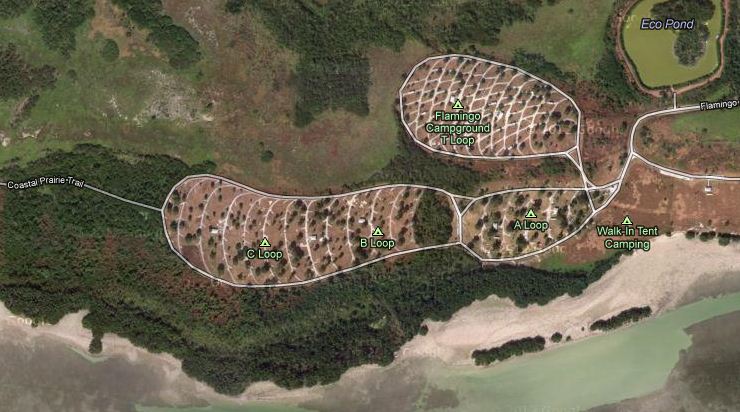 Google Maps