Everglades Vintage Day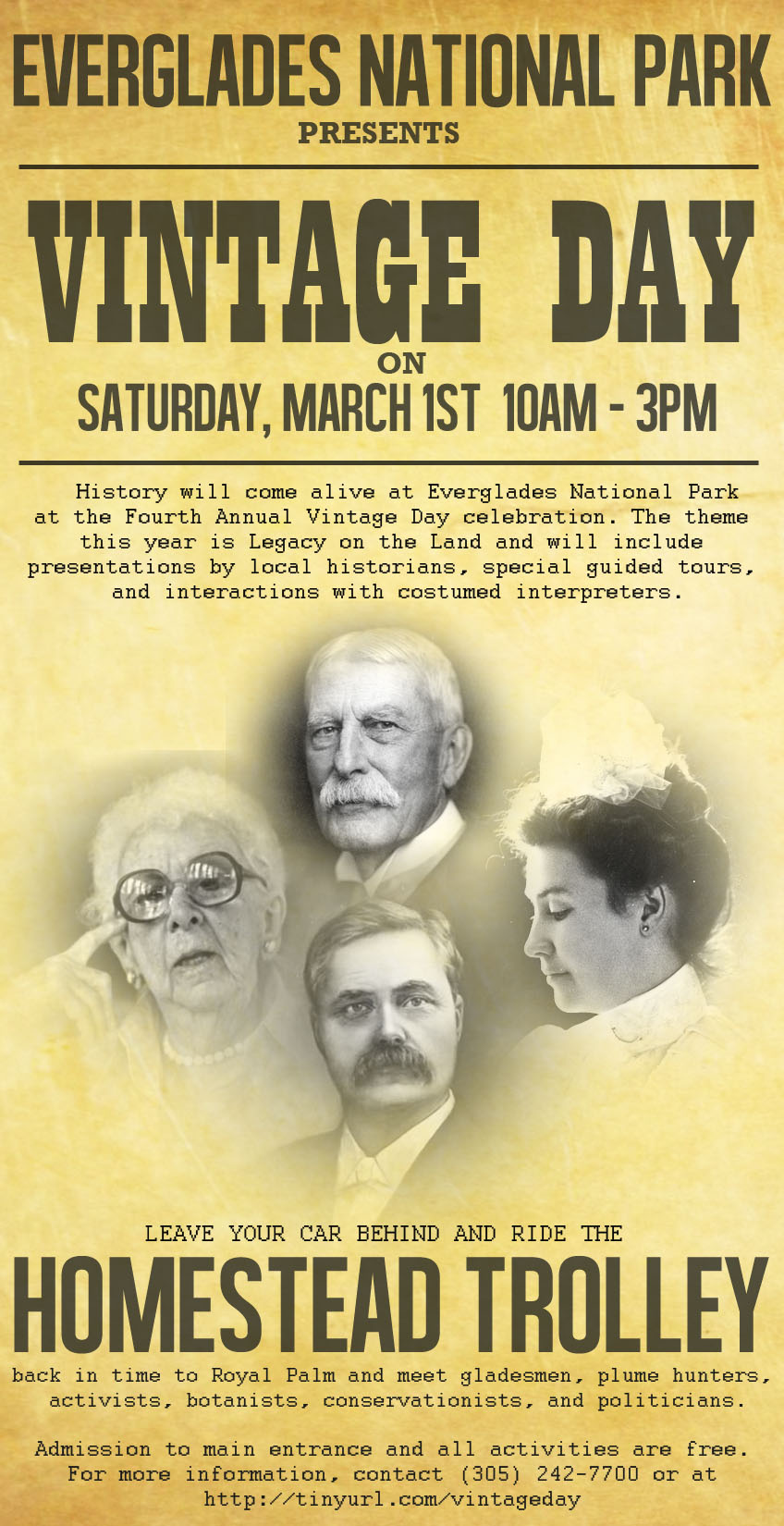 Let's travel back in time to October 1906. Governor Napoleon Bonaparte Broward is furious over editorials in a Miami newspaper opposing his plan to drain the Everglades. Broward had been elected Florida governor two years earlier, promising to drain that "pestilence-ridden swamp." Frank Stoneman, editor of the paper that later became the Miami Herald and the father of Marjory Stoneman Douglas, initially wrote in favor of the drainage plan. But, Stoneman changed his mind due to economic and environmental concerns about the effect of drainage on the future of South Florida.
Travel forward in time to March 1, 2014. Governor Broward and Frank Stoneman will debate at the Fourth Annual Everglades Vintage Day celebration at Everglades National Park. Portrayed by Acting Deputy Superintendent Alan Scott and volunteer interpretive ranger Jim Allen, Broward and Stoneman will face off on an issue that continues to impact life in South Florida. At Everglades Vintage Day, park guests will interact with many others from the past who have left a legacy on the Everglades. Visitors can complete a souvenir collage by collecting puzzle pieces from costumed interpreters, including Henry Flagler, Marjory Stoneman Douglas, Guy Bradley, and Ernest Coe. There will also be gladesmen, conservationists, orchid and plume hunters, politicians and early park rangers to share their perspectives. Special guided tours will be offered, including costumed tours of the old Royal Palm State Park.
As early as 1905, the Florida Federation of Women's Clubs was asking for protection of the Royal Palm area. Although it was dedicated as Florida's first state park in 1916, the women continued to lobby for national park status. Eventually Royal Palm State Park became the nucleus for Everglades National Park, which was dedicated in 1947. Other guided tours include a walk through a hardwood hammock with a botanical artist and a visit to the Nike missile base with a cold war era soldier. Vintage Day will also feature presentations from local authors and historians. Topics will include the building of the Tamiami Trail, the ambiguous legacy of John James Audubon, the early days at Flamingo, and the origins of the intriguing place names in the Everglades.
Throughout history, many have left a legacy on the land known as The Everglades. Whether that legacy was positive or negative often changes with the perspectives of time. Join the celebration of Everglades Vintage Day on March 1, from 10 am to 3 pm and decide what YOUR legacy will be.