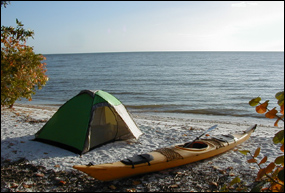 Fees and Permits
A backcountry permit is required for all wilderness campsites. During the winter season (mid-November through mid- April) backcountry permits must be obtained in person from the Gulf Coast Visitor Center or Flamingo Visitor Center between the hours of 8 am - 4:30 pm. The soonest you may obtain a permit is 24 hours before your departure and a fee of $10 per permit and $2 per/person per day will be charged. During the summer season permits are free but are still required (mid- April through mid- November). They are available 24 hours 7 days per week. Follow self-registration instructions at either visitor center.
Permits are not issued over the telephone except for visitors coming in from the Florida Keys to camp at North Nest Key, Little Rabbit Key, Shark Point Chickee, Johnson Key Chickee and Cape Sable. Please call 239-695-2945.
Backcountry permits for the Ernest Coe and Ingraham Highway sites are issued from the Main Entrance Station.