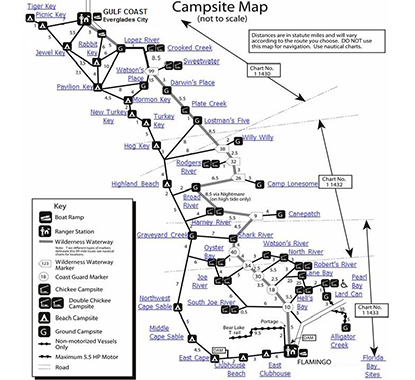 Camp Sites
Backcountry camp sites provide the perfect opportunity to experience the vast wilderness of the Everglades. Visitors can select between a variety of ground sites, beach sites and elevated camping platforms known as chickees. Most sites are accessible by canoe, kayak or motorboat, though a few may be reached by foot. Visitors should be aware that no backcountry site is available by car.
Trips into the backcountry require more preparation than most. Visitors should be careful about the season in which they choose to visit. Campers should be able to navigate properly and should be prepared for inclement weather and biting insects. Reviewing our Wilderness Trip Planner will help get you started. Call either the Gulf Coast (239-695-3311) or Flamingo (239-695-2945) Visitor Centers for more detailed information to help with your trip planning.
Reservations
Reservations are not accepted for any backcountry site.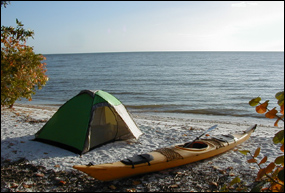 Fees and Permits
A backcountry permit is required for all wilderness campsites. During the winter season (mid-November through mid- April) backcountry permits must be obtained in person from the Gulf Coast Visitor Center or Flamingo Visitor Center between the hours of 8 am - 4:30 pm. The soonest you may obtain a permit is 24 hours before your departure and a fee of $15 per permit and $2 per/person per day will be charged. During the summer season permits are free but are still required (mid- April through mid- November). They are available 24 hours 7 days per week. Follow self-registration instructions at either visitor center.
Permits are not issued over the telephone except for visitors coming in from the Florida Keys to camp at North Nest Key, Little Rabbit Key, Shark Point Chickee, Johnson Key Chickee and Cape Sable. Please call 239-695-2945.
Backcountry permits for the Ernest Coe and Ingraham Highway sites are issued from the Main Entrance Station.