Access Pass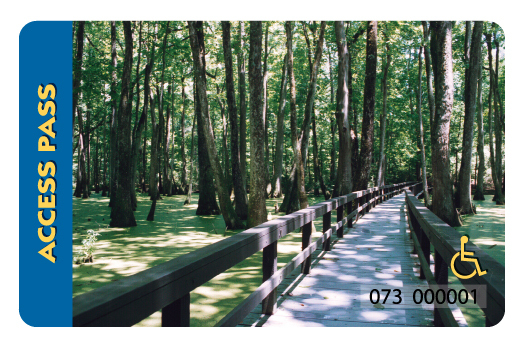 America the Beautiful - National Parks and Federal Recreational Lands Pass- Access Pass - Free

This is a lifetime pass for U.S. citizens or permanent residents with permanent disabilities.
Documentation is required to obtain the pass. Acceptable documentation includes: statement by a licensed physician; document issued by Federal agency such as the Veteran's Administration, Social Security Disability Income or Supplemental Security Income; or document issued by a State agency such as a vocational rehabilitation agency.
The pass provides access to, and use of, Federal recreation sites that charge an Entrance or Standard Amenity. The pass admits the pass holder and passengers in a non-commercial vehicle at per vehicle fee areas and pass holder + 3 adults, not to exceed 4 adults, at per person fee areas (children under 16 are admitted free).
The pass can only be obtained in person at the park. The pass is non-transferable and generally does NOT cover or reduce special recreation permit fees or fees charged by concessionaires.
America the Beautiful

Get details on the various annual and lifetime passes that provides U.S. citizens and visitors access to participating Federal recreation lands Read More
Did You Know?

Kayaking and canoeing are superb ways to visit the habitats of Everglades National Park. Paddle through shady mangrove tunnels, bright sawgrass prairies, open ponds and lakes, or along the stunning coastlines for an experience you'll never forget!