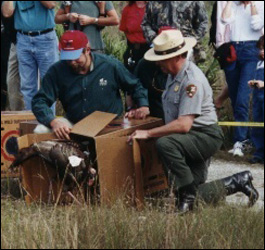 NPS photo
Historical records suggest that several unsuccessful and unofficial efforts to reintroduce turkeys to the region took place between the late 1940s and early 1970s. A cooperative effort to restore the Wild Turkey to Everglades National Park was organized in the fall of 1999 because in addition to hunting now being illegal, a natural fire regime was being restored and the forests had recovered from logging. In January 2000, 29 Wild Turkeys (22 females and 7 males) captured from locations in southern and central Florida were released on Long Pine Key, 10 of which were fitted with radio transmitters.
Subsequent monitoring to evaluate the success of the release yielded mixed results. Seven of the 10 (70 percent) radio-tagged turkeys died within a year after release, three of which were found in the Hole-in-the-Donut, an area of the park dominated by the exotic Brazilian pepper (Schinus terebinthifolius). The cause of death was unclear, but evidence suggests that predation was a major factor. On a good note, however, breeding was documented in 2001 in at least two locations and in 2005 at least one of the originally released turkeys was still alive. Unfortunately, a comprehensive camera survey in 2005 found a very small population with a sex ratio strongly skewed toward males. Possible explanations include too few birds initially released and effects associated with small populations, such as the low probability of encountering a potential mate.
In 2006, a second release of 31 Wild Turkeys (20 females, 11 males) was conducted. Initial data collected from camera surveys, radio-tracking, and wildlife observations indicated that the second release of turkeys into Long Pine Key was successful. Successful breeding was reported in 2006 and 2007. Recent camera surveys in 2008 and 2009, however, indicate a reduction in population size, and few observations of successful breeding have been reported. Long-term success of the reintroduction will ultimately be determined by the development of a viable self-sustaining population.