Lichens: In Depth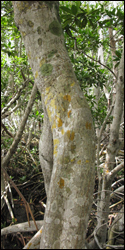 Jean Seavey, NPS volunteer
How Subtropical Florida Lichens Compare with Lichens from Other Places
Until recently it was believed that lichen abundance and species richness were greatest in cool-temperate areas. Now, about half of the predicted global 26,000 – 28,000 lichen species are estimated to occur in the tropics (Dr. Robert Lücking, The Field Museum of Chicago, 2009), which represent less than 25 percent of the Earth's land surface. Most areas of the continental United States have been well studied except the tropical and subtropical parts. Available publications document the extraordinary diversity, especially of crustose epiphytic microlichens, and suggest that many species await discovery and could provide substantial additions to the North American Lichen Checklist. At a lichen workshop at Fakahatchee Strand Preserve State Park in southwestern Florida in March 2009, 369 species of lichen were identified, 7 of which were new to science and 45 new to North America. Subsequent research efforts ranked Everglades National Park fifth in lichen diversity in a comparative analysis of protected areas within the United States.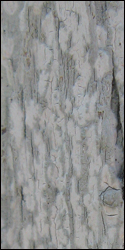 Jean Seavey, NPS volunteer
Everglades National Park Lichen Project
As of 2014, the Everglades National Park lichen project has identified 550 species of which at least 50 are additions to the North American Lichen Checklist. Thirteen species have been described and published as new to science and an additional 7 new species are in press. At least 10 others are believed to be new to science but have not been described. More than 3,000 specimens have been delivered to the National Park Service South Florida Collections Management Center for archiving, and several hundred more are currently being processed. Lichens are good barometers of air and habitat quality. After sufficient baseline data on Everglades lichens have been collected, it is hoped that analysis of those data may provide insight to their potential use as environmental indicators.
Learn more about Rick and Jean Seavey, the volunteers who are conducting the Everglades National Park Lichen Project.