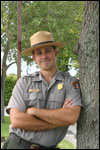 Title: Science Communications Outreach
Phone: 305-224-4263
Fax: 305-224-4147
Education: B.A, Parks and Recreation, Florida International University, Miami, FL, 1996. M.S., Environmental Studies, Florida International University, Miami, FL, 2008.


Larry Perez is a lifelong resident of Miami who has spent over 15 years working in south Florida's natural areas. During his career, he has worked as a naturalist for Miami-Dade Parks and Recreation, a hydrologic technician for Biscayne National Park, and an interpreter for Everglades National Park. Larry is a graduate of Florida International University with an undergraduate degree in Parks and Recreation Management and a Masters of Science in Environmental Studies. He is the author of the books Words on the Wilderness: A History of Place Names in South Florida's National Parks, and Snake in the Grass: An Everglades Invasion.
In his current capacity, Larry works as a science communications liaison for the South Florida Natural Resources Center. Persons interested in having Larry speak at their next function are welcome to contact him directly.