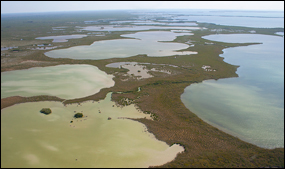 NPS photo by Lori Oberhofer
The Everglades comprise a vast, interconnected mosaic of distinct ecosystems. These diverse habitats are in a state of constant change, subject to the influences of a full suite of environmental processes. Geology, hydrology, air quality, water quality, fire regime, weather, and climate are but a few of the many natural factors that help shape the development of landscapes in the Everglades. The actions of humans also have a strong influence. The introduction of nonnative species, disruptive water-management activities, the disturbance of natural processes, climate change, and air, water, light, and noise pollution have all worked to undermine the integrity of the historic ecosystem.
Learn about specific environmental factors at the links below.