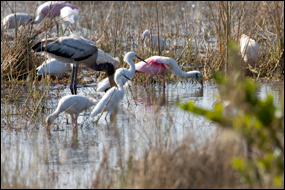 NPS photo by Rodney Cammauf
Sixteen different species of wading birds live in the Everglades. All have long legs for wading into the water to catch their food. The white Ibis is the most common wading bird found in the park. Unlike wading birds that prefer to eat fish, the ibis dines mostly on crayfish. This attractive white bird has a long, slender, curved beak that it uses to probe the mud in search of food. Ancient Egyptians believed the ibis to be the reincarnation of their God, Thoth, the God of Wisdom and Learning.
The wood stork is a larger wading bird than the ibis and has an unusual way of feeding. With its beak held in the water, the wood stork shuffles its feet. As a frightened fish swims away from its feet, it bumps into the bird's beak. The sensitive beak can feel the fish, and it clamps down on it within a fraction of a second. Some believe this movement to be the fastest of any organism in the Everglades. The wood stork was federally listed as an endangered species until June 2014, when its status was down-listed to threatened.
One of the most common herons you would encounter on a visit to the park would be the green-backed heron. A relatively small wading bird, the antics of this fisherman are fun to watch. Slowly stalking in shallow water, or hanging from a low tree branch, its dart-like jab at a fish is rarely off target.
Other wading birds you may encounter on a visit include the great white heron, great blue heron, great egret, snowy egret, tri-colored heron, little blue heron, cattle egret, reddish egret, black-crowned night heron, yellow-crowned night heron, least bittern, glossy ibis, and the very colorful roseate spoonbill.