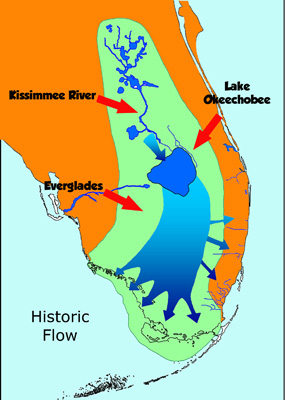 In Florida, water falls and collects in springs and lakes that start to flow into the Kissimmee River. The Kissimmee River flows south into Lake Okeechobee and joins the water already stored there.

Lake Okeechobee is shaped like a very large shallow bowl and when it collects too much water from rain, other lakes, and streams, it overflows its southern edge and water flows out creating the Everglades.
As the water flows through the Everglades, it eventually chains into Florida Bay and the Gulf of Mexico.
As the water flows through the Everglades to the bay, a lot of it starts to slowly soak into the limestone rock underground. Once it soaks into the limestone, it gets stored in underground caves called aquifers. Aquifers are Florida's freshwater source, so when you get a glass of water from your sink, the water coming out of the faucet is coming from these aquifers. The Biscayne Aquifer, specifically, is the principal source of drinking water for southeastern Florida.