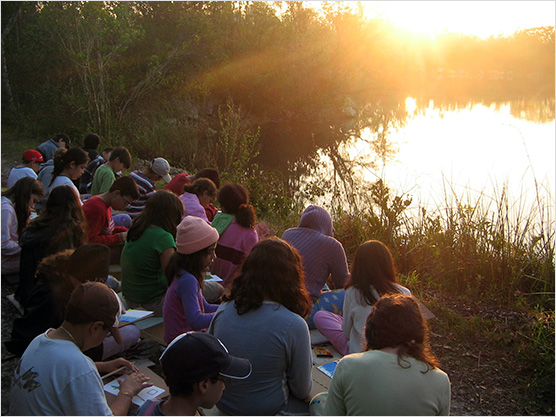 NPS photo
Everglades National Park maintains two education centers that offer 3 day / 2 night group camping programs. These programs are available to 5th and 6th grade students of the local community and are offered free of charge to teachers who complete the appropriate
teacher workshop.


Hidden Lake is located 15 miles from Homestead, 4 miles from the park's main visitor center. The campsite is on the shore of a three-acre freshwater lake. The center's facilities include a shelter with picnic tables and food storage cabinet, five platform tents, barbecue grill, restrooms, and a campfire circle.
Study habitats within walking distance include: freshwater slough, sawgrass marsh, hardwood hammock, borrow pit lake, and pinelands.

Activities agreed upon by the teacher and rangers might include: habitat hikes, canoeing, freshwater lake study, night walks, campfire programs, sunrise walks, art/language exercises, and discussion of park issues.

Teachers are responsible for arranging transportation to and from the site. Teachers and chaperones are also responsible for bringing and preparing all meals. Students are responsible for bringing their own bedding and camping supplies.