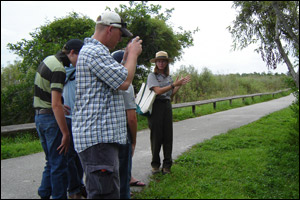 When visiting Everglades National Park ranger-led tours are often one of the favorite memories visitors take home with them from their visitor to a National Park. These programs provide a personalized connection with the natural and cultural resources of one of the most ecologically diverse parks in the country. Rangers are trained to interpret the resources the National Park Service is charged with protecting. Donations to interpretive programs at Everglades National Park helps the park offer more of these popular programs.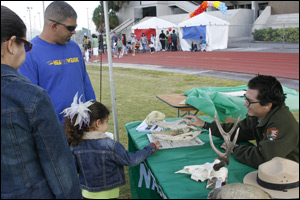 Community Outreach offers Interpretation of park resources to the local communities of the surrounding south Florida area. Rangers attend, participate and talk with a wide range of people about the park natural and cultural resources at public events, community organization meetings, fairs, festivals, career days. Rangers also organize teacher workshops and visit children in their classrooms to increase awareness and understanding of National Parks in general and highlight the park so close to their community - the Everglades! Though there are 7 million people living within a short drive to the park, there are so many who haven't made the trip, outreach brings the park to the people and encourages them to come and experience the Everglades themselves.
Florida Bay Community Outreach operates from the Key Largo Ranger Station where there is no visitor center or interpretive displays. The information provided in the outreach programs here focus on the marine resources of the park, specifically Florida Bay. Florida Bay's shallow waters and seagrasses provide a nursery for the many fish and crustaceans that are so important to fish stocks in and around the Bay. Donations to this program help the park to increase their visits to local organizations and develop educational materials on boating in Florida Bay.
In the winter of 2009 the park began offering ranger-guided tours of the Nike Hercules Missile Base HM-69 located in the heart of Everglades National Park. This tour of a remarkably well preserved relic of the Cold War quickly became one of the park's most popular programs. Though the demand was high,the park was only able to accommodate ten percent of requested reservations for this popular tour. Donations to this program could expand these guided tours to meet the high demand.