A Tool For School (Learn & Serve Series) Part 1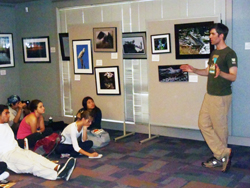 Two professors at the Honors College at Florida International University (FIU) have developed an onsite, hands-on class through which students study not just the biology, botany, and ecology of Everglades National Park (ENP), but also its history, politics, literature, art and sociology. Since 1997, Dr. Peter Machonis, a linguist, and Dr. Devon Graham, a tropical biologist, have taught "The Everglades: From Beginning to End?"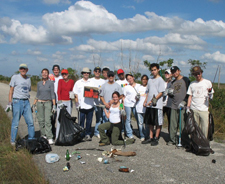 Limited to 18 students, the class spans the fall and spring semesters. Classes take place outdoors and involve physical activities such as hiking, biking, canoeing, and slough slogging. Other field trips involve arranging a presentation by the current Artist in Residence, participating in a volunteer project at Chekika, and visiting the Ernest F. Coe Visitor Center to critique the exhibits and River of Life video.
Students are required to write journal entries, submit innovative assignments like administering a brief Everglades survey, designing a "personal ad" of an Everglades animal (or plant), and presenting professional posters on special topics for public display at ENP. This year it's on March 30th. Students also present a simplified version of their poster projects to Sweetwater Middle School 5th graders.
Books for this course are The Everglades Handbook, the biological details of the ecosystem, and The Swamp, the complex politics surrounding the Everglades. In addition, students read three novels and one journal. The journal Across the Everglades details an early explorer's canoe trip and is discussed during the class canoe trip. The novel Their Eyes Were Watching God is discussed during the slough slog and gives a taste of the protagonist's predicament of escaping the Everglades during a hurricane. During the second semester, students read Skinny Dip by Carl Hiaasen about an unscrupulous biologist involved in Everglades' restoration efforts.
Over the years, almost 200 students have taken the course, and it thrives because nothing else is like it. It uses "new ways of approaching subjects and of presenting material," Graham explains. Machonis declares, "One of the most rewarding things . . . has been running into former students during visits to the Everglades. They take their family and friends there, go camping, and get involved with volunteer activities. The course opens up a whole new world of interests and possibilities for students - things that last a life-time."
Jonathan Cameron, a 2007 alumnus, remarks, "Each class took me out of my natural element . . . [and]was instrumental in transforming my mindset regarding the Everglades. When it comes to [its] conservation, I now consider myself in part responsible" Holding true to his word, as president of the Honors Alumni Chapter, Jonathan brought 35 members to volunteer to help restore the Nike Missile Base on February 5, 2012 and is planning future events with the Volunteer Office.