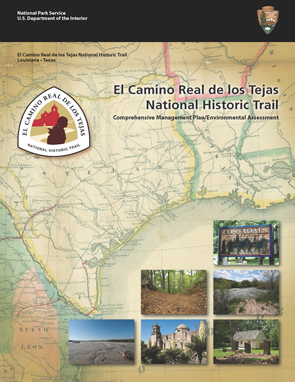 NPS
Planning Updates
The Comprehensive Management Plan/Environmental Assessment (September 2011) is now available.
Please visit the following website to view the document:
http://parkplanning.nps.gov/elte0911
Hard copies of the plan are available upon request. Contact: e-mail us
Conceptual Trailwide Sign Plan for El Camino Real de los Tejas NHT. (7 MG pdf)
This El Camino Real de Los Tejas National Historic Trail Conceptual Sign Plan is a trailwide plan illustrating, at a conceptual level, signing requirements that will help the public find and follow historic trail sites and segments. The sign plan covers road signs only: signs that indicate original historic routes, local tour routes, directions to historic sites and segments, and trail site entrance signs. While the sign plan includes the entire length of the trail, not all trail-related sites are addressed. Rather, samples are presented as prototypes to provide an example of how these signs may be used.
The web page How To Create Your Sign Plan takes you to the next step in the sign plan process.