2014 Compendium now available

The 2014 compendium is now available via the link below. It includes new prohibitions on the operation of unmanned aircraft systems (UAS) in national park units. More »
Pets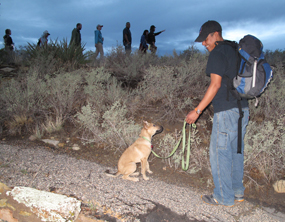 NPS Photo
El Morro is dog-friendly!
At El Morro National Monument, you may take your pet on the trails with you. Your pet must be under control and on a leash at all times.

Pets off-leash can scare and possibly harm native wildlife like birds, rabbits, and squirrels. They can damage biological soils and vegetation. The steep drop-offs at the top of the bluff also make it dangerous for a pet not on a leash. Please respect this regulation so that others can enjoy the trails with their pets in the future.

Note: Pets are not permitted in the visitor center. Please check-in with us first and we will direct you to the trails.


Did You Know?

If you walk the Inscription Loop Trail at El Morro National Monument, you can see some 2000 petroglyphs and inscriptions. The inscriptions date back to the 1600s when the Spanish traveled through the area.