All caves in El Malpais National Monument are closed to recreational use.

This closure is due to a combination of factors including the outbreak of a fungal disease that is killing millions of bats. Read more at our Nature and Science page. More »
Things To Know Before You Come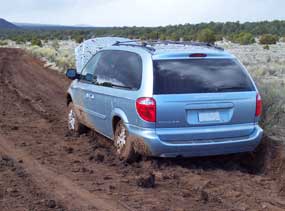 NPS
Touring El Malpais requires preparation. Bring the right vehicle; if you plan on exploring the more remote sections of the park, a properly equipped four-wheel-drive vehicle with high clearance is suggested. Gear and clothing should be matched to the season of your visit.

Your safety is your responsibility here as well. Given the long distances and difficult terrain, it can be a while before help can reach you. Bring the gear you'll need to have an enjoyable and safe trek.


Did You Know?

The Western Diamondback rattlesnake is one of several species of rattlesnake that inhabit the high desert of El Malpais. Like all wildlife in the park, they are protected and should be given space and respect. More...