Junction Cave CLOSED for the winter

Junction Cave is now closed to protect hibernating bats that overwinter within. Please help protect our winged relatives by respecting this closure. The cave will reopen for visitation on March 16th, 2014. Other permit-accessible caves remain open.
Cave permits now available for selected park caves

FREE mandatory cave permits are now available to visit specific caves in El Malpais. Permits can be obtained at the El Malpais Information Center on NM Highway 53 or at the Northwest New Mexico Visitor Center at I-40/Exit 85. More »
Outdoor Activities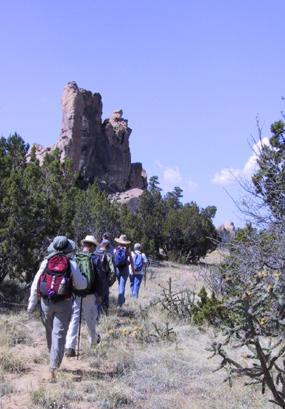 NPS
Experience a legendary land!
In El Malpais, you can take in as much or as little as time allows. Enjoy scenic driving on paved highways. Lock in the four wheel drive for backcountry roads. Wander our trails; everything from short easy walks to strenuous treks down ancient routes can be done here.
But there's more. Diverse plant and animal communities can be observed by the patient naturalist. Four seasons provide dramatic elements that change the landscape through the year. Lava tube caves provide a window onto an intriguing natural world below the surface.
Download our brochures to plan your next adventure!
Did You Know?

Bats are the only mammals that fly. El Malpais National Monument is home to thirteen different species of bats. Pregnant Mexican Free-tailed bats join the resident bats during the summer months but leave once the pups are able to fly. More...