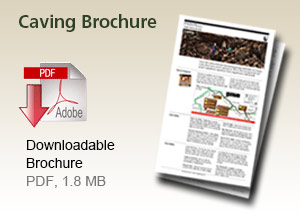 Lava tube caves, with their fascinating geology and hidden ice formations, await your careful exploration. With a free caving permit and the proper equipment, you can experience these magnificent underworlds. For more information, such as which caves are available for entry, permitting requirements, recommended equipment, maps to caves, etc., please download a copy of our caving brochure.
Cave Permits
Caving permits are available at the El Malpais Information Center or at the Northwest New Mexico Visitor Center. These permits are free, but visitors will need to speak with a ranger about previous caving experience and receive cave safety and conservation information. Cave permits are only valid for the months indicated and for entry into specific caves. A new permit is required if visitors go to caves outside the monument and then return to re-enter caves here at El Malpais.
The Caves

NOTE: Junction Cave is closed seasonally to protect hibernating bats. Please call 505-876-2783 for details on the caving season at Junction Cave.