Donate
Donate to Your Park
We can accept checks or money orders made payable to the National Park Service.
If you have a specific passion and would like the money to go to that cause, you should write a letter or note and request how you would like the money to be spent. We would then set up a specific account number to be used for that purpose solely.
If you just wish for the park to receive the money, then the park will deposit those funds in the "general" donation account which typically funds educational and interpretive events at the park.
Our address is
Statue of Liberty National Monument and Ellis Island
Statue of Liberty NM and Ellis Island Receiving Office
Attention: Superintendent
Jersey City, NJ 07305
Did You Know?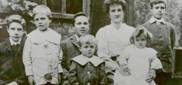 Most Americans remember Bob Hope for his work in the entertainment business as a comedian, actor, dancer and singer, as well as his work with the American troops abroad. Few people know that Bob Hope was an immigrant from England who came here with his family and passed inspection at Ellis Island on March 30, 1908, at the age of 5. (center of photo) More...