Things To Know Before You Come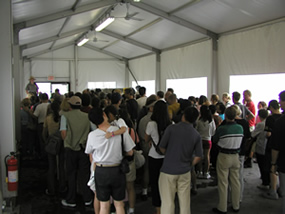 NPS PHOTO
Before you board the ferry
Visitors and their belongings are subject to inspection. The National Park Service appreciates your patience and understanding of these procedures and the additional time that may be required.
Visitors to Ellis Island and the Statue of Liberty must pass through security screening (similar to airport security procedures).
Screening moves much faster than in the past. However, it is wise to leave extra time for the screening process just in case.

In case of an emergency please contact a U.S. Park Police Officer or a National Park Service Ranger.
PROHIBITED ITEMS
All weapons, including firearms, knives (even tiny Swiss Army Knives), mace, "dual-use" items, tools, and any item that is or could be construed as a weapon are strictly prohibited in the park and on the ferries.
No locker storage facilities are available at the ferry terminals.
Do not carry any of these type items into the security screening area. They will be confiscated and not be returned. If you are unsure about an item, please do not bring it.
LARGE packages, suitcases, carry-on luggage and other large parcels will not be permitted on the ferries to Ellis or Liberty Islands.
Face masks and/or costumes which are designed to conceal the identity of a person are prohibited.
CAN I BRING MY PET?
In most cases, no. Only documented working guide dogs accompanying a person with a disability are permitted. Non-working animals are not allowed onto the island or in the Museum.
If you have any questions, please contact the park prior to your visit.
Statue of Liberty National Monument is part of the National Parks of New York Harbor.



Statue of Liberty | Ellis Island | Gateway | Castle Clinton | Federal Hall | St. Paul's Church | General Grant
Hamilton Grange | Theodore Roosevelt's Birthplace | Governors Island | African Burial Ground