Ellis Island Closed Until Further Notice

As of May 2013: Due to the conditions caused by Hurricane Sandy, the Ellis Island Immigration Museum will be closed until further notice. A projected reopening date has not yet been established, follow our twitter account for updates. More »
Things To Know Before You Come
Visiting Ellis Island
Update as of May, 2013: The Statue of Liberty will re-open on July 4, 2013. There will be limited access to Ellis Island.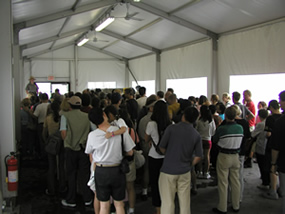 BEFORE YOU BOARD THE BOAT
Visitors and their belongings are subject to inspection. The National Park Service appreciates your patience and understanding of these procedures and the additional time that may be required.
SECURITY AND SAFETY GUIDELINES:
Visitors to Ellis Island and the Statue of Liberty must pass through security screening (similar to airport security procedures).

Please

keep in mind that, particularly

during peak seasons (May-September and holiday weekends), wait times can be anywhere from 1-4 hours

.

In case of an emergency please contact a U.S. Park Police Officer or a National Park Service Ranger.
Prohibited Items at the Park:
All weapons, including firearms, knives (even tiny Swiss Army Knives), mace, "dual-use" items, tools, and any item that is or could be construed as a weapon are strictly prohibited in the park and on the ferries.
No locker storage facilities are available at the ferry terminals.
Do not carry any of these type items into the security screening area. They will be confiscated and not be returned. If you are unsure about an item, please do not bring it.
LARGE packages, suitcases, carry-on luggage and other large parcels will not be permitted on the ferries to Ellis or Liberty Islands.
Pets
Only documented working guide dogs accompanying a person with a disability are permitted.
Accessibility at Ellis Island Immigration Museum and Statue of Liberty
If you have any questions, please contact the park prior to your visit.
In writing:
National Park Service, Statue of Liberty National Monument, Liberty Island, NY, NY 10004, Attn: Division of Interpretation & Visitor Services
By Phone:
General Information: 212 363-3200. TTY: 212 363-8384.
Or:


Did You Know?

When Ellis Island was opened in 1892, the facility bore little resemblance to the Renaissance Revival/Beaux Arts structure that people have come to know today.  Made out of Georgia pine, the complex caught fire on June 15, 1897 and burned to the ground in about 6 hours.  The current building was opened on December 17, 1900.