Ellis Island is open on a limited basis while repairs continue.

Ellis Island has reopened on a limited basis. Due to the nature of the destruction caused by Hurricane Sandy parts of the historic Main Building and museum, including most of the exhibits and both elevators, remain closed at this time. More »
Permits
Do I need a permit?
Most visitors do not need a permit. Permits are needed for activities beyond a typical visit to the park by a family or individual. At this park, they fall into two categories: film permits and special use permits.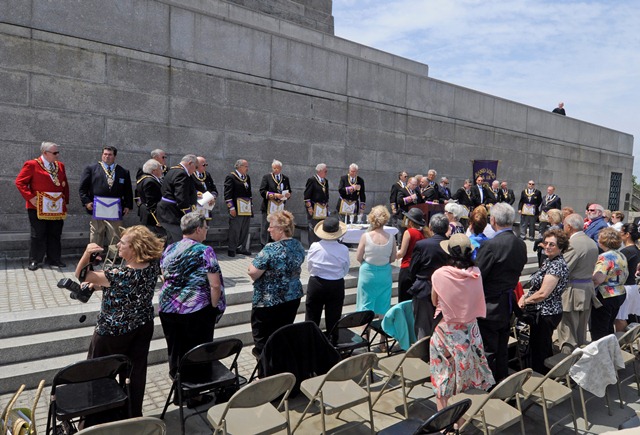 NPS PHOTO
Fim Permits and Special Use Permits
Film permits are required for filming or taking photographs at the park for a movie, documentary, TV show or other commercial use. (Photos or videos taken by visitors for their own personal use do not require a permit. Neither do breaking news stories.)
Special use permits are required for organizing and performing activities or assemblies which provide a benefit to an individual, group or organization, rather than the public at large. Special use permits are also needed for activities that require National Park Service staff to protect park resources, the public interest, or both. Examples include, but are not limited to, the following:
concerts;
ceremonies;
art performances;
public spectator attractions;
festivals;
cultural programs;
non-competitive sporting events.
Filing a permit application alone does not grant you the right to your activity. Permit applications may be approved or rejected by the park. The $75 fee is nonrefundable, whether your application is approved or denied. (See below.)
Submit permits at least 48 hours in advance (weekdays only)
The park requires permits to be submitted at least 48 hours before the proposed event. The 48-hour period begins when the park receives the completed permit application. (Weekends and federal holidays are NOT counted as part of the 48-hour period. Applications received after business hours will be considered as being submitted the morning of the next work day.)
Free advice
Before applying for a permit, it is wise to contact us first. Describe the proposed activity to find out if this is something the park might consider. Park staff can advise you on how to craft your application. Please describe:
the nature of the proposed filming or activity;
the date and time of the proposed event;
the equipment you would use, and;
the number of people involved.
Permit Fee
Once a permit application is submitted, you will be charged a nonrefundable $75 application fee. This fee will not be returned even if your application is rejected. The $75 application fee may be waived for those submitting requests for band, choir or dance performances and for certain ceremonies, such as reenlistments.
First Amendment Activities
Freedom of speech, press, religion, and assembly are constitutional rights. However, the courts have recognized that activities associated with the exercise of these rights may be reasonably regulated to protect park resources. Therefore, all First Amendment activities require special use permits. The NPS may regulate the time, place, and manner in which they are conducted. These types of events may include distribution and/or sale of printed matter, religious services, public demonstrations or assemblies, collecting signatures for petitions, etc. Requests for Special Use Permits for activities relating to public assembly, commercial filming, and printed matter should be requested in writing.
Applications and Addresses
Please read the application carefully before filling it out. Special Use Permit applications and Filming Permit applications may be emailed or sent via regular mail to:
Statue of Liberty National Monument
Attn: Permits
Liberty Island
New York, New York 10004


Did You Know?
The Guastavino Ceiling in the Great Hall: Rafael Guastavino Moreno (1842 –1908) was a Spanish architect and builder. He created a "Tile Arch System" patented in the United States in 1885 used for constructing robust, self-supporting arches and architectural vaults using interlocking terracotta tiles and layers of mortar, it is found in some of the most prominent Beaux-Arts landmarks across the United States