Ellis Island Closed Until Further Notice

As of May 2013: Due to the conditions caused by Hurricane Sandy, the Ellis Island Immigration Museum will be closed until further notice. A projected reopening date has not yet been established, follow our twitter account for updates. More »
Permits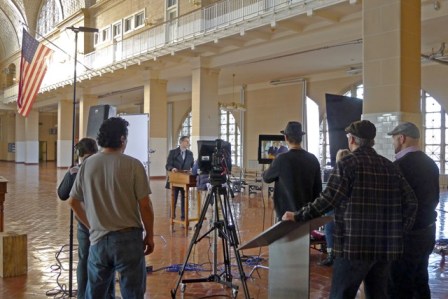 NPS Photo
SPECIAL USE PERMITS
A special use permit is required for activities that provide a benefit to an individual, group, or organization rather than the public at large and that require some degree of management from the National Park Service to protect park resources and the public interest. Some examples of special events that require permits are: non-competitive sporting events, public spectator attractions, festivals, concerts, ceremonies, and cultural programs.


First Amendment Activities
Freedom of speech, press, religion, and assembly are constitutional rights. However, the courts have recognized that activities associated with the exercise of these rights may be reasonably regulated to protect park resources. Therefore, all first amendment activities require special use permits and the NPS may regulate the time, place, and manner in which they are conducted. Some examples of special events that require permits are: distribution and/or sale of printed matter, religious services, public demonstrations or assemblies, etc, or collecting signatures for petitions.


Requests for Special Use Permits for activity relating to Public Assembly, Commercial Filming, Printed Matter should be requested in writing.
Download the General Use Permit Application.

Please note: Those submitting a request for band, choir, and dance performances, some ceremonies, and re-enlistments do not have to submit the $75.00 application fee.

If you have any questions, please call (212) 363 3206 x 107.

Download the Filming Permit Application.

Before submitting an application for a film permit, please call (212) 363-3206, x 107, to make sure the filming is something the park will allow.
Official Requests in writing should be sent to:
Attn: Superintendent
National Park Service
Statue of Liberty National Monument
Liberty Island
New York, NY 10004




Did You Know?

Ellis Island's south side contains 25 buildings that are mostly unrestored.  These structures included general hospitals, isolation and psychiatric facilities for immigrants needing treatment or isolation.  The U.S. Public Health Service staffed these facilities during the station's operation. More...