Dining and Gifts
Dining: The Ellis Island Café provides a varied menu of high quality food, with an emphasis on organic ingredients and many heart-healthy options.
Ellis Island Gift Shop & Museum Store: This shop, located across from the Ellis Island Café features all kinds of items from pencils and magnets to jewelry inspired by the various cultures. Evelyn Hill, Inc. operates the food and gift concession at Ellis Island. To learn more, visit www.thestatueofliberty.com for information about their operation or call (212) 344-0996. For inquiries about hosting an event, please telephone (212)363-3180.
National Parks of New York Harbor Conservancy Ellis Island Museum Store: This new museum store located next to the main entrance features an array of books and museum collection-informed items. The museum store is a joint venture between the National Parks of New York Harbor Conservancy and Eastern National.
Did You Know?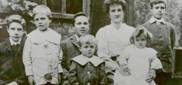 Most Americans remember Bob Hope for his work in the entertainment business as a comedian, actor, dancer and singer, as well as his work with the American troops abroad. Few people know that Bob Hope was an immigrant from England who came here with his family and passed inspection at Ellis Island on March 30, 1908, at the age of 5. (center of photo) More...