Contact Public Affairs
NPS GRAPHIC
Statue of Liberty National Monument, which includes Ellis Island as well as Liberty Island, is a national park in New York Harbor. The park's Public Affairs Office is responsible for media affairs on both islands.
For information on news stories regarding the park: Email us!
Phone: 917-299-3843 (mobile only; no land lines yet after Hurricane Sandy)
FAX: none (see above)
Mailing address:
Statue of Liberty National Monument
c/o Public Affairs Office
New York, New York 10004
Did You Know?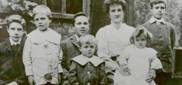 Most Americans remember Bob Hope for his work in the entertainment business as a comedian, actor, dancer and singer, as well as his work with the American troops abroad. Few people know that Bob Hope was an immigrant from England who came here with his family and passed inspection at Ellis Island on March 30, 1908, at the age of 5. (center of photo) More...