Our Staff & Offices
Source: U.S. Customs & Border Protection
All official inquiries, inquiries and comments should be directed to:
Write to: National Park Service, Statue of Liberty National Monument, Liberty Island, NY, NY 10004. Attn: Superintendent
E-mail the park.
General Information Line: 212 363-3200 (voicemail only)
Media Relations: 917-299-3843
Fax: 212 363-6304 (land lines are not currently working - no fax)
Deaf and hard-of-hearing visitors can utilize the services of NY/NJ relay at 711.


Did You Know?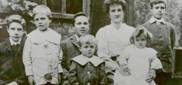 Most Americans remember Bob Hope for his work in the entertainment business as a comedian, actor, dancer and singer, as well as his work with the American troops abroad. Few people know that Bob Hope was an immigrant from England who came here with his family and passed inspection at Ellis Island on March 30, 1908, at the age of 5. (center of photo) More...