Elevator Notice

Elevator maintenance will occur on October 22 and 23, 2014. As a result, there will be NO elevator service on Ellis Island.
Park Planning
NPS
The Peopling of America exhibit
This exciting new undertaking will enlarge the story currently told of the Ellis Island Era (1892-1954) to include the entire panorama of the American immigration experience. It will include exhibits dedicated to those who arrived before Ellis Island opened and those who arrived between 1954 and the present.
The goal for this exhibit is to enable all visitors, regardless of when or how their families arrived in the United States, to find "their stories" and to make a personal connection to this special unit of the National Park Service.


Did You Know?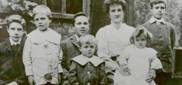 Most Americans remember Bob Hope for his work in the entertainment business as a comedian, actor, dancer and singer, as well as his work with the American troops abroad. Few people know that Bob Hope was an immigrant from England who came here with his family and passed inspection at Ellis Island on March 30, 1908, at the age of 5. (center of photo) More...