The Oral History Library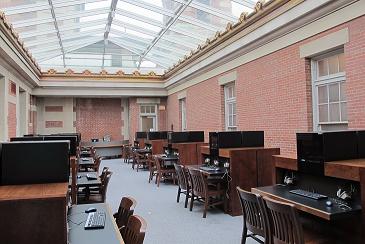 NPS PHOTO
The Ellis Island Oral History Project interviews are available to researchers and interested members of the public in the Oral History Library, located on the third floor of the Ellis Island Immigration Museum. People wishing to use the complete interviews, both as recordings or on-screen transcripts may do so by using the specially designed computer stations in this room. Simple instructions found on the computer screen assist the user with locating any desired interviews and pertinent information. These computers contain the oral history interviews only and do not contain general immigration records such as ship manifests, passports, etc.
Begun in 1973, the Oral History Project now includes more than 1,700 interviews. Each interview includes an examination of everyday life in the country of origin, family history, reasons for coming to the United States, the journey to the existing port, experiences or the ship, arrival and processing at the Ellis Island facility and an in-depth look at the adjustment to living in the United States. Approximately fifty interviews are added annually by full time employees as well as Volunteers-in-Park.
If you are interested in contributing an interview or volunteering your time to the Oral History Project, please e-mail us. A few interviews are available on our website.
Oral History

interviewees

Duration:

2 minutes, 49 seconds

Credit / Author:

Carmen Cheok

Date created:

2011-08-04
Want more?
Read or listen to selected oral histories here.