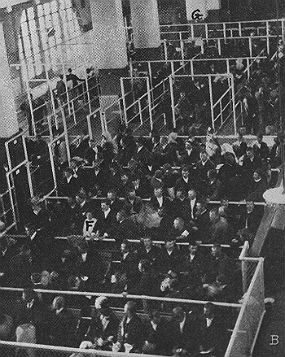 NPS Photo
Almost 12 million immigrants were processed through the immigration station on Ellis Island between 1892 and 1954 when the station closed. By 1924, however, the number of immigrants being processed at Ellis Island had been significantly reduced by anti-immigration legislation designed to establish quotas by nationality. This legislation dramatically reduced the number of immigrants allowed to enter the United States.
The Emergency Quota Act, passed in 1921, ended U.S's open door immigration policy. The law significantly reduced the number of admissions by setting quotas according to nationality. The number of each nationality that could be admitted to the United States was limited to 3% of that nationality's representation in the U.S. census of 1910. The law created havoc for those on Ellis Island and thousands of immigrants were stranded on the island awaiting deportation. The island sometimes became so overcrowded that officials had to admit excess-quota immigrants.
The First Quota Act was replaced with the even more restrictive Immigration Act of 1924. This act further limited admissions of each nationality to the United States to 2% of that nationality's representation in the 1890 census. The act sought not only to limit admissions to the United States, but also to curtail immigration of southern and eastern Europeans, who by the 1900s comprised over 50% of the immigrant flow. Additionally, the Immigration Act of 1924 allowed prospective immigrants to undergo inspection before they left their homeland, making the trip to Ellis Island unnecessary.