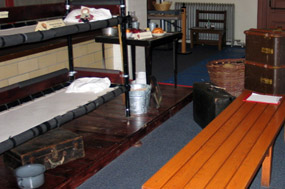 NPS Photo
Students in grades 4-6 learn about immigration at Ellis Island by walking in the footsteps of immigrants and experiencing what immigrating was like through hands-on small group activities.
This program is:
90 minutes
Limited to 40 students
Offered Monday-Friday during the school year (September-June)
Free, but reservations are required
If this program sounds right for your class, !
Before the on-site program in the museum, prepare your class and complete the pre-visit activity in the new Teacher's Guide for . The classic version is still available: . Please give us feedback about the either version.
Looking for more resources and ideas? These will help you prepare your class for the visit.