Visiting Ellis Island
Update as of March 20, 2013: Due to extensive damage sustained during Hurricane Sandy, Ellis Island is closed indefinitely. Statue of Liberty will re-open on July 4, 2013.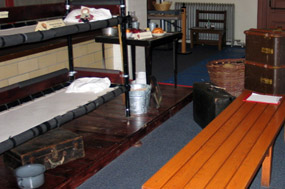 NPS Photo
Students in grades 4-6 learn about immigration at Ellis Island by walking in the footsteps of immigrants and experiencing what immigrating was like through hands-on small group activities.
This program is:
90 minutes
Limited to 40 students
Offered Monday-Friday during the school year (September-June)
Free, but reservations are required
If this program sounds right for your class, request this program when you buy your ferry tickets!
Before the on-site program in the museum, prepare your class and complete the pre-visit activity in the new Teacher's Guide for Grades 4-6. The classic version is still available: Shore to Shore Teacher's Guide. Please give us feedback about the either version.
Looking for more resources and ideas? These curriculum materials will help you prepare your class for the visit.